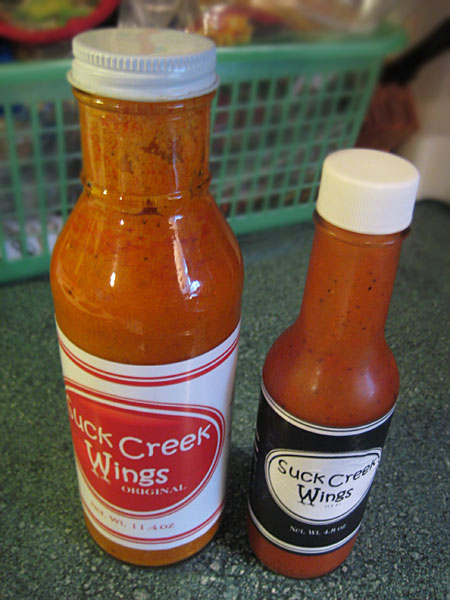 You can't peel me away from a good chicken wing, and it's darned near impossible for me not to be reeled in by one. But if you give me a lackluster wing, and you'll see me get mean in a hurry. I don't know what was going on in the minds of John and Dave of Suck Creek Wings when they created their first batch of Original Wing Sauce; but chances are with my attitude towards wings, I would probably get along famously with them. I say this because in a market filled with mass-produced mediocrity, the duo aimed to create some of the savoriest and most memorable wing sauces in America, and by George they've developed a couple of superb products.
I love the name "Suck Creek Wings". Although the moniker does come from a real creek located near the Chattanooga, Tennessee-based sauce company, I think the words also perfectly capture a down home, chicken wing eating experience: "suck" as in you would suck the meat and sauce off the wing bones; "creek", as in, well, a Southern creek and the way it fits in when one conjures up a beautiful backdrop for chowing on some wings outdoors.
Suck Creek Wings were generous enough to send me a 11.4 ounce bottle of their Original Wing Sauce and a 5 ounce bottle of their "mystery" WFR Hot Sauce to do some tasting and testing.
Original Sauce
Ingredients:
Hot pepper sauce (cayenne peppers, vinegar, water, salt and garlic powder), butter (pasteurized cream, salt), onion, habanero pepper, garlic, spices. Contains: milk.
This is Suck Creek Wings' first wing sauce. It is also the hottest wing sauce they produce. John and Dave created Medium and Mild versions for tamer tongues that are based on the same recipe as the Original. It is, unsurprisingly, a utilitarian hot wing/buffalo sauce. It smells, pours, and tastes similar to many orange wing-coaters you've seen before, but has a much peppery edge than most of them. The Original Sauce has a nice, dazzling kick of heat and is perfect for those who love fire on your bird pieces. Not much to complain about but there's a lot to rave about. Good overall flavor and smooth consistency. Overall: 4 out of 5 stars.
[GARD]
Suck Creek Wings Sauces Original Sauce (left) and WFR Pepper Sauce
WFR Hot Sauce
Ingredients:
Habanero peppers, hot pepper sauce (cayenne peppers, vinegar, water, salt and garlic powder), onion, garlic, spices.
WFR Sauce…now what does "WFR" mean? According to the SCW website, it is explained "does the 'WFR' stand for? Well, we have our own ideas on that, but we think that it should mean whatever you think it means". Apparently the acronym will remain a mystery like what person the song "You're So Vain" is referring to or why people think Family Guy is funny.
What I do know is that WFR is one of the best, most-versatile wing sauces I've ever had the pleasure of consuming.
Let me begin my review of WFR Sauce by describing its aroma. It's similar to many habanero sauces I've encountered, but the strong chile and vinegar scents are subdued. There are noticeable touches of onions and garlic that make their presence known upon first hitting your nose, but what really makes this distinctive is the black pepper. The ingredients list mentions "spices", and there may or may not be other components in this sauce that can fit inside that description, but I've got a feeling that black pepper is the dominant (if perhaps the only) "spice" element. It's a nice aroma, but it really doesn't prepare you for what the sauce really has in store.
WFR pours and sticks like a medium-thickness hot sauce. In contrast to the Original Sauce, this is a red/brown liquid accented with thousands of dark specks of pepper. However you use it, it's a nice-looking elixir.
Now the taste…I've always speculated that the Original Recipe chicken from Kentucky Fried Chicken gets it's distinctive flavor from black pepper. Despite what you think of KFC – I happen to have a soft spot for it, and I bet there are quite of few of you out there that also do even if you won't openly admit it – I think WFR is nearly the equivalent of KFC Original Recipe in a bottle, with a touch of vinegar and fresh chile flavor added. Believe me, the sauce is far better and interesting than that description. It's bright, tangy and complex (thanks to the garlic & onions), but there's that sensation of where you can almost taste the peppery breading on some chicken wings.
The sauce is nice and fiery, and the heat does build up on your tongue and the back of your mouth the more you eat. On a scale of 1 to 5, with 5 being all-out nuclear, WFR rates a respectable, comfortably-hot 2.5. Chileheads would love this. Mild-mouths may have to use this sauce in small amounts to avoid an excessive burn.
I tried this on (of course) breaded wings, on fried chicken breast strips, and as a dip for tater tots. This may not be as multi-purpose as a general hot sauce, for I could not see this going on tomato sauce-style pizza or eggs. But within the fried food realm, this is an excellent, all-around go-to wing and dipping sauce. This may also be good on grilled or smoked meats, such as chicken parts or pork ribs.
This comes with my highest recommendation. Overall: 5 out of 5 stars.
It's time for wings! Original Sauce (left) and WFR Pepper Sauce
Labels:
Minimalist graphics with the simple SCW logo. It gets the job done if you were to see this sitting on store shelf. I do have a couple of small complaints about the WFR Sauce label. One, the small white font used for the ingredients and the description is difficult to read on the black label. Second, the letters "WFR" are hard to make out on the white logo background. Honestly, if you hadn't already know the name of this sauce, you could easily make the incorrect guess that this was called "WER", "WHR" or even "WIR". A clearer font (and a slight increase in size) would remedy this: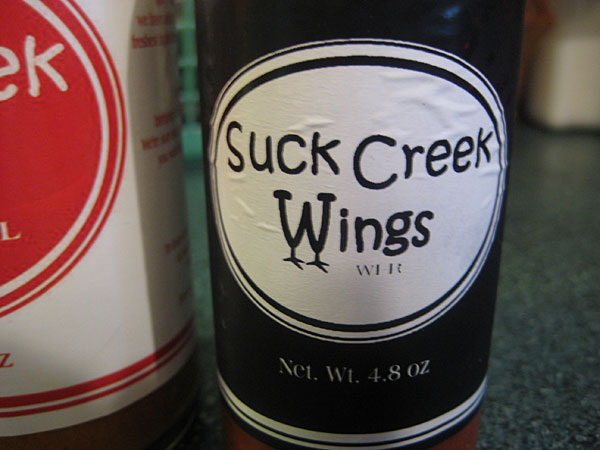 Update 11/30/09: Since I posted the review last night I've heard from John Lunn of SCW and he informed me that the hard-to-make-out "WFR" was a temporary printing glitch. The label is supposed to read "WFR Hot Sauce" the way it shows it here: http://www.suckcreekwings.com/PhotoGallery.asp?ProductCode=SCW-WFR.
To order these sauces, go to the Official Suck Creek Wings website. The Original will run you $8.00, and the WFR costs $5.00, both before shipping.
Review – Suck Creek Wings Original and WFR Sauces