You think you've come across a great new product this year? I'm about to raise the ante on ya. This little baby was submitted to me a few months back by a fellow Missourian, Jay Abbey. It's called Smoke Canyon Gourmet Smoke Roasted Jalapeno Sauce. I have to tell ya, this was so amazingly delicious that I almost devoured the contents of the entire bottle before I was able to get some photographs of it with some food. This is just one of those little revelations like a Ring of Fire or a 1498, that upon tasting it, you know you've struck gold. No, much more than that – a diamond mine!
What makes this sauce special is the miraculous performance it does as it straddles the line between have a fresh jalapeno flavor and a chipotle flavor. As you know, by its literal definition, that a "chipotle" is a dried, smoked jalapeno (although many sauce makers have broken that rule and have called just about any smoked chile under the sun a "chipotle"). To clarify, this is NOT a chipotle sauce, nor does it really have a heavy, smoky taste. Instead, perhaps like no sauce – or salsa – I've come across before, this really captures the distinctive tones of a roasted jalapeno chile pepper in a bottle. It's a little smoky, somewhat "grill-like", but it's LOADED with huge flavor. And it's vastly different than a lot of green/verde sauces you'll find on the market, especially those that get their flavor profile from garlic, cilantro, and a combo of tart vinegary, almost "pickled" jalapeno components.
One last thing I'll mention before I dive into this review is the fact that as of this writing, Smoke Canyon has no website, so quick and simple ordering is out of the question. However, what you can do is reach Jay Abbey via e-mail at smokecanyon "at" gmail.com, or contact him on Smoke Canyon's Facebook page, and inquire him about obtaining some of this "don't miss" product for your product. Tell him I sent ya, and you'll be glad you did!
Ingredients:
Jalapeno Peppers, Onions, White Wine Vinegar, Filtered Water, Garlic, Lemon Juice, Sea Salt, Sugar and Spices.
Aroma:
4 out of 5. A little more earthy and smokey than a standard verde sauce, but with jalapenos taking center stage. Faint amounts of vinegar add in the excitement.
Appearance and Texture:
3 out of 5. Consistency-wise, this is spot on with what I like: a nice, thick-viscosity sauce with oodles of stickability. Any negatives? Well, if I were to be overly concerned about the color, I probably might be turned off by the dirty gray hue of the verde sauce. Beggars can't be choosy, and I'd rather have it look like this than have some weird, artificial, bright-green coloring applied to the natural, earthy appearance of the roasted jalapenos.
Taste Straight Up:
5 out of 5. I've half described the flavor in the introduction of this review, but he's a recap: upon touching the tongue, there's a wonderful rush of a combination fresh and roasted pepper taste. It's highlighted with a small dose of onions and garlic, with a touch of tartness and sourness to bring up a high end. A few seconds into the taste, a light smokiness covers the tongue and is sprinkled with the flavor of black pepper and other spices.
As I stated before, many other verde sauces are all about the bluster of garlic, cilantro and a pickled pepper-type feel. This differs greatly from that, and is so much more gastronomically and epicurically interesting.
Taste on Food:
Smoke Canyon Smoke Roasted Jalapeno Sauce isn't just for the standard Mexican fare. It's stellar on everything!
I added Jalapeno Sauce to a chicken biscuit. It magiciliously brought a boring breakfast sandwich to life.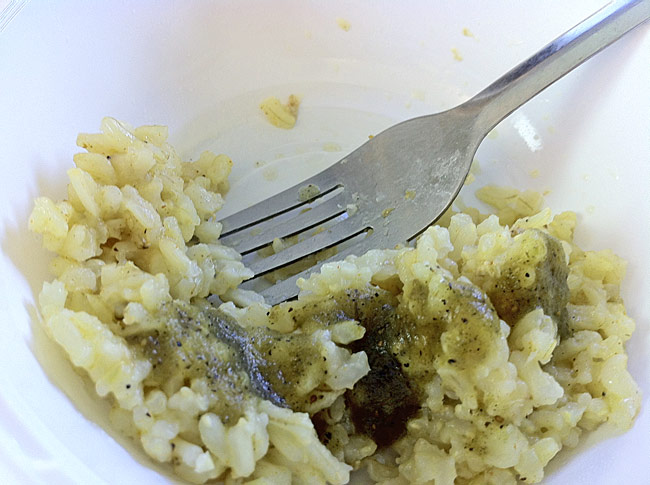 Plain old steamed white rice is no match for Smoke Canyon Smoke Roasted Jalapeno Sauce. Even the most boring of dishes become explosions of umami with this product!
Before my bottle ran out, I was able to enjoy this over some grilled salmon. Wow, just hurry up and hand an Academy Award to this for its performance! Amazing!
Heat:
1.5 out of 5. Don't expect much burn at all. This may be a tad spicy for mild mouths, but this is a comfortable table sauce for chileheads of all heat levels. This sauce is built more for flavor than heat.
Label:
4.5 out of 5. Good-looking, sharp, and would stick out on a store shelf.
Overall:

Bottom line is this is a solid contender for best sauce of the year, and one of my new all-time favorites. Contact them via e-mail at smokecanyon "at" gmail.com, or via Smoke Canyon's Facebook page.
Update 8/31/12: Smoke Canyon's website is up and you can purchase this amazing sauce at http://www.smokecanyon.com!
Review – Smoke Canyon Gourmet Smoke Roasted Jalapeno Sauce