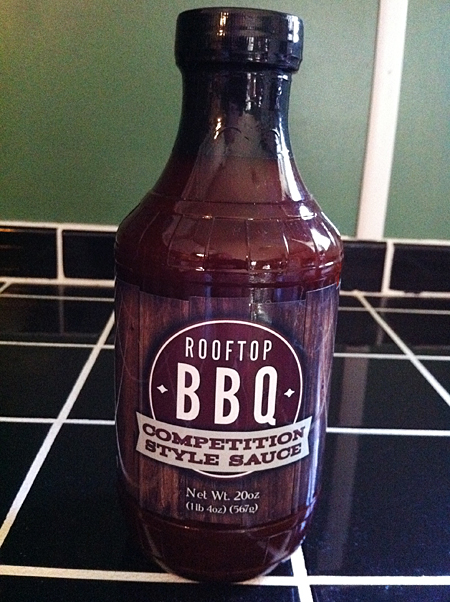 Just like the hot sauce field, and perhaps even more so, barbecue sauces number in the tens of thousands and can be baffling to sort through. Everyone from food conglomerates to chefs to backyard grillers to competition teams have thrown down the metaphorical gauntlets and offer their own product for home consumption.
The subject of this review comes from a BBQ competition team that calls themselves Rooftop Barbeque. As their website explains, "[Our name] comes from the book of Acts, in chapter 10. Peter, the apostle, was sitting on a rooftop while people were cooking dinner below him. He fell asleep and saw a vision in his dreams with a large sheet coming down from heaven filled with all kinds of unclean animals.
And a voice came to him, 'Rise, Peter; kill and eat."
So now we can eat pork… mmmm, pork."
I love it! Now I'm going to tell you if I love their product, Rooftop BBQ Sauce, as well….
Ingredients:
Tomato Puree (Water, Tomato Paste), Brown Sugar, Molasses, Sugar, Mustard (Vinegar, Water, Mustard Seed, Salt, Turmeric, Xanthan Gum), Butter (Sweet Cream, Natural Flavoring), Distilled Vinegar, Salt, Dehydrated Garlic, Honey, Chipotle Powder, Cider Vinegar, Dehydrated Onion, Vanilla, Spices, Natural Flavoring
Aroma:
4.5 out of 5. Sweet and sparsely tangy.
Appearance and Texture:
5 out of 5. A beautiful brown tint. What's even more admirable about Rooftop BBQ Competition Style Sauce is that it's the perfect consistency to me – dense and sticky – before it's cooked and caramelized on the surface of the meat. A good many of you grillers and smokers tolerate and even love thinner sauces, claiming that it will thicken up upon prolonged contact with heat (sort of true), but give me something with extra heft and stickiness! Rooftop BBQ passes with flying colors in this department.
Taste Straight Up:
5 out of 5. A rich and sweet coalescence of tomatoes, brown sugar, molasses and onions are what I'm able to detect immediately. There is a lot of complexity at play, thanks to the mustard, honey, garlic and vanilla. I only felt a moderate teasing of smokiness yet the heat from the chipotles was quite noticeable.
Out of any regional comparisons, this may be a cross between a Kansas City-style sauce and a meat topper from Texas – bold, sweet, a wee bit o' tang, and peppery.
Taste on Food:
5 out of 5. I decided to try this out on a batch of grilled chicken, applying a generous coating of Rooftop BBQ Sauce to each side. Dear Lord, this was bone suckin' good! Even my two boys, who at times (as kids can be) are pickier and hard-to-please as all get out, loved this stuff! When a product gets rave reviews from both children and those who prefer bolder, spicier, more complex tastes like myself, you know a sauce maker has hit paydirt!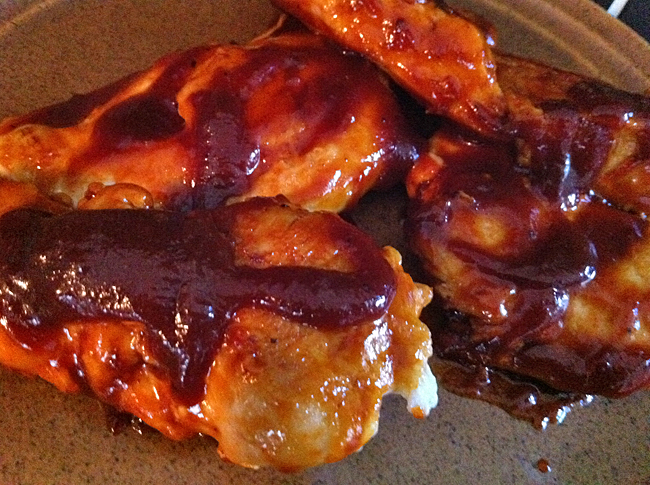 Next up was a rack of St. Louis-style spare ribs, previously rubbed down in a bit of Fat Kid Sauces BBQ Goodness Rub and smoked over apple wood chips. Flat out amazing! My taste buds were dancing with glee so much that although my stomach eventually got full, my mouth wanted to eat another 10 ribs.
Rooftop BBQ Sauce would be good on anything: hot dogs, brisket, burgers, smoked sausage, meatballs, as a dip for chicken tenders, and even…yes…steak! If you desire an all-purpose sauce that's also beautifully rich and full of flavor, you couldn't find any sauce better than this.
Heat:
2 out of 5. A lick of this and you'll agree that Rooftop BBQ Competition Style Sauce does pack some substantial, slow burn. Maybe it's not enough flamage for hardcore chileheads looking to set their tongues ablaze, but if you like a touch of spice this would be perfect for you. The heat does dissipate a lot when applied to food.
Label:
5 out of 5. Great graphics here! This would really catch my attention if it were sitting on a grocery store shelf. What's gimmicky but still cool about is that the actual paper label is cut to the shape of the wood slats adorning the background image.
Overall Rating:

Just a scant few months ago, I applauded Draper's BBQ Smokin' Sauce as being very close to BBQ heaven, and at the time had become my favorite new 'que sauce of the year. While Draper's is still fantastic and worthy of your hard-earned food dollars, Rooftop BBQ has measurably surpassed it.
Obtain your own slice of BBQ paradise by dashing over to the Rooftop BBQ website and picking up a generous 20 oz. bottle or three for $7.00 a piece plus shipping. This brilliantly formulated sauce comes with my highest recommendation.
Review – Rooftop BBQ Competition Style Sauce