If you frequent other hot sauce websites, you may have already read the story of how saucemaker Ed Rome used all of the peppers from his harvest to create only one hot sauce this year. That lone sauce is Inner Bhutty, a tribute to the Inner Beauty Hot Sauce. I've never tried Inner Beauty – it's no longer in production and from what I've read, it was a fruity and mustard-heavy Caribbean-style elixir. Ed's new Inner Bhutty (take note of the spelling) is supposedly strikingly similar with the presence of other chile peppers, including the bhut jolokia (but I bet you already figured that out, didn't you?).
Because of prior buzz about the original Inner Beauty, I just had to get my hands on Ed's variation and test it out for myself, to see if this was truly a "bhutty-ful" sauce or not.
There's one thing I have to mention before a jump into this review. I am NOT a fan of Indian food, and when "Island style" offerings get too close to approximating eastern cuisine with an overabundance of curry and sweet ingredients such as honey, they can (to put it diplomatically) be a VERY acquired taste for me. But I'm open for trying just about anything, especially this Inner Bhutty.
Ingredients:
Red Savina Peppers, Orange Juice, Pineapple Juice, Smoked Peppers, Mustard, Vinegar, Canola Oil, Mango, Honey, Molasses, Brown Sugar, Bhut Jolokia, Spices, Kosher Salt


Is this the ghost of Inner Bhutty? No, these are merely bubbles in the wax that the cap was covered with. Since I'm not really a collector and more of a user, the wax had to come off.
Aroma:
2.5 out of 5. Very strong Indian influences yet mild enough Caribbean overtones make this a so-so smelling sauce. I detected a lot of sweetness from the fruit juice, brown sugar and honey, but no traces whatsoever of typical hot sauce staples such as peppers or vinegar.
Appearance and Texture:
3 out of 5. A medium brown liquid that's a tinge on the light side. There are lots of flakes of spices and small chunks of peppers.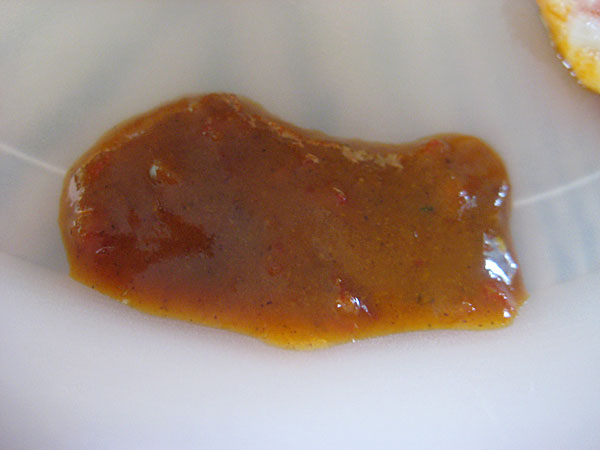 Taste:
3 out of 5. It was thankfully a little better than it's aroma. Much of the Indian impressions I got from smelling it were barely even there upon consumption and was squarely in "Jamaican" territory. I tasted a good deal of the brown sugary/honey/molasses sweetness and a little hit from the mustard. Not bad. After a second or two I sensed some pepper flavor to complicate things a bit (in a good way).
But there was the niggling sensation, albeit minuscule, of East Indian spices that weren't in the forefront but still hard to ignore. Was it turmeric? Fenugreek? It was hard to pin down but it was there. I would have toned these down even further or even gotten rid of them altogether, and this would have been a really great fruity, mustard-enhanced Island sauce in the style of the West Indies. Instead, this probably won't be something I'll go back to again and again. That having been said, it was an admirable effort and this might be a sauce I'd use on occasion when I get tired of the same old same old.
Suggested Uses:
Chicken breasts or wings is an obvious choice (if you're a thigh or leg person, it probably would be good, too). Perhaps adding some fresh mango salsa to this and applying to pork roast or ribs would make a nice dish for a unique Sunday night family feast.
Heat:
Very surprisingly not very hot at all. It's advertised on the label "Contains BHUT JOLOKIA the hottest pepper in the world" and that might frighten potential buyers away. While it does pack a little bit of heat – a 2.5 on a scale of 1 to 5, this does not have the full fury of the mighty ghost chiles, and instead is an amalgam of various milder peppers and other ingredients.
A bottle of RedRum Inner Bhutty runs at a very reasonable cost of $5.00 for a bottle at the http://www.redrumhotsauce.com, plus shipping. It comes in a slightly larger 7 ounce flask-style bottle.
Review – RedRum Inner Bhutty Hot Sauce