Review - Madison Chocolatiers West Not Your Grandma's Hot Sauce Chocolate, Chocolate Habanero Caramel Sauce
Scott Roberts
May 29, 2012 at 8:37 pm
food

Digg

Share
Tweet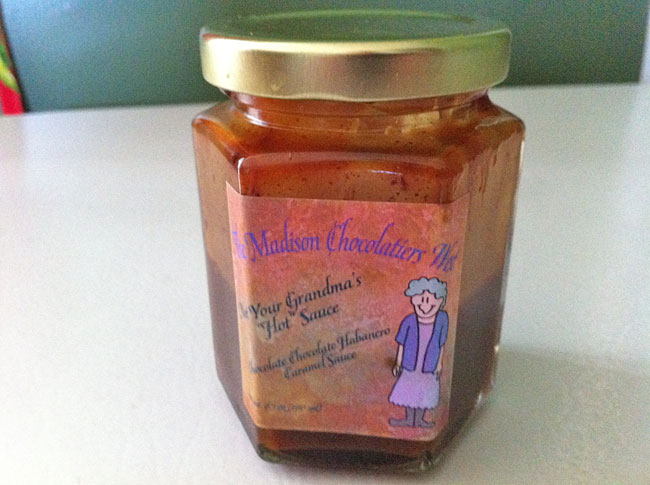 Yes, "Madison Chocolatiers West Not Your Grandma's Hot Sauce" is a fairly long name for a product, and it's even wordier if you tack on the type of sauce it is to the end of that moniker, to make it "Madison Chocolatiers West Not Your Grandma's Hot Sauce Chocolate, Chocolate Habanero Caramel Sauce". Whew! But that goofy little distinction should not deter you from grabbing your own jar of this dessert dipper to pour and serve with your food.
Partners Renee Rohrbach and Chef Ricky Sanders have ingeniously developed some incredible confectionery wonders through their gourmet company, Madison Chocolatiers West. They've gained some notoriety in the chilehead world because of their use of chile peppers in some of their chocolates and sweets, both expertly employing the flavor and burn of the chiles. Combining chile and chocolate has been done many, many times, but Renee and Ricky have done a splendid job at what they do, as they are among the best and most unique.
If you go by the longer name, you can probably figure out that it uses chocolate (I was excited to learn that this contains dark chocolate! Yes! My favorite over milk chocolate), chocolate habaneros (only called that because of their creamy brown color) and last but not least, caramel. In fact, I would have to say that if there was a "glue" flavor that held this sauce together to give it definition and personality, it would be that of the caramel.
Ingredients:
Sugar, butter, heavy cream, 70% single origin dark chocolate, chocolate habanero peppers, vanilla
Aroma:
4 out of 5. Mostly a buttery caramel-like scent with a bit of chocolate.
Appearance and Texture:
Just like you'd expect from a mixture of dark chocolate and caramel, this is a brown-colored blend. Upon close inspection, I noticed dozens of little brown flecks and specks, most likely due to the shredded up chocolate habaneros in this. Not Your Grandma's Hot Sauce is a smooth, thick, syrup-type liquid, and doesn't have the stretch and elasticity of pure caramel. I would advice anyone who uses this sauce to warm it up in the microwave (with the metal lid off, of course) for short periods of time until the sauce is warm and runnier, enabling you to spoon it out easier.
Taste Straight Up:
4.5 out of 5. Smooth and creamy, and has the perfect harmonization between buttery sweet caramel and a rich, dark chocolate. I could eat this stuff right out of the jar! Of course, after the second or third spoonful, you start to feel a tingling of heat sprout up on your tongue.
Taste on Food:
4.5 out of 5. It was a no-brainer to try this on vanilla ice cream. As I predicted, this was a very, very tasty match. It wasn't quite the grand slam home run that I was hoping as the flavor faded into the ice cream quite a bit, but this was one of the better dessert toppers I've had this year.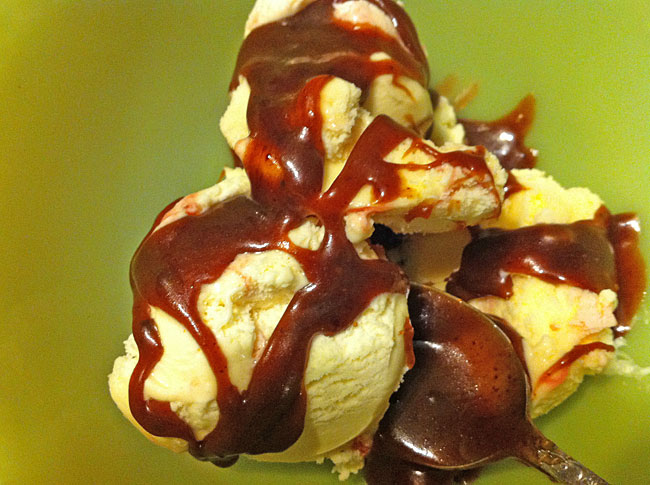 At the most recent Peppers at the Beach Tailgate Party, it was mentioned that someone had used Madison Chocolatiers West Not Your Grandma's Hot Sauce as a candy-like dip for sweet potato fries. I could not resist this application, so during this past Memorial Day weekend I fried up a batch of sweet potato fries with my grilled pork steak. I drizzled the Chocolate, Chocolate Habanero Caramel Sauce over them, and ...wow! This was absolutely perfect. I can honestly say that this was one of the top 10 best things I've ever eaten.
I could not have this wonderful sauce with anything else, because after these two usages the jar was empty.
Just to explain by rating, the sauce with the sweet potato fries easily earns a 5 out of 5 rating. It's phenomenal that way. Heck, I'd give it a 10 if I could! But I would probably only award it 3 out of 5 on ice cream. Now, I tend not to be picky and expect every single product I review to work exceptionally well with every single application. But since I imagine many of you would use this sauce over ice cream or frozen yogurt, I will give that lower score a lot of weight. So therefore, I will bring the overall rating down to a 4.5. Nonetheless, it gets a HUGE thumbs up from me!
Heat:
2.5 out of 5. The chocolate habs add the right amount of chilehead lovin' burn to this winner of a dessert sauce. Not too hot, not too mild. There's a bit of warmth that escalates on the tongue after consuming a few bites.
Label:
1.5 out of 5. Sorry, guys. The labeling looks quite amateurish to me. From the dark gradient of colors in the background to the "script"-typr font, the words are very hard to read on it.
Overall:
Although and Rick don't have Madison Chocolatiers West Not Your Grandma's Hot Sauce up on their website for sale yet, you can quickly find this delectable concoction on their Facebook store. It's not cheap stuff, as it costs a gourmet $7.50 for a relatively small 6.5 oz jar. My advice is to go ahead and splurge, as it is definitely worth every penny of the price.