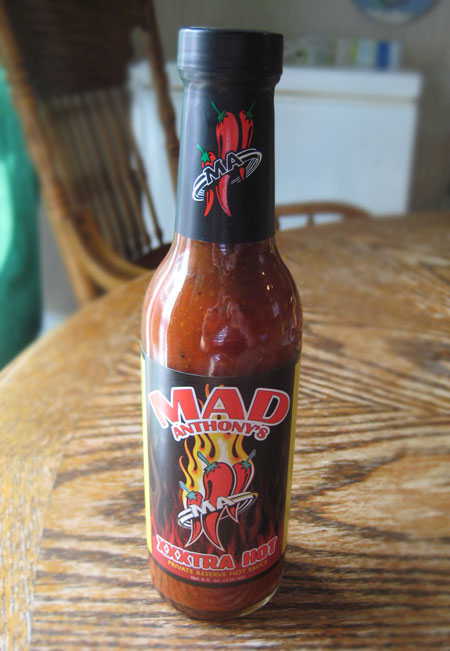 When I first tasted Mad Anthony's Hot Sauce many, many moons ago, I was incredibly relieved. For one, if it was a sub-par sauce, there have might have been people who accused me of using it and liking it just because Michael Anthony was the bassist for Van Halen, my favorite band of all-time (he was since let go from the group and is now rockin' it up with Sammy Hagar, Joe Satriani, and Chad Smith in Chickenfoot, but I digress). Two, celebrities and their ilk are quite adapt at releasing and promoting crappy products with their name on it, whether it be food, cologne, shoes, or trash bags (okay, maybe not trash bags). Anthony had actually come up with a quality condiment with the help of Mike and Diane's Gourmet Kitchen, makers of Ring of Fire hot sauces, and it was something worth shouting about. Anthony has subsequently released a milder version of his hot sauce, a pair of BBQ sauces, and a spicy mustard, all of which are above average. Does his latest creation, the Mad Anthony's XXXTra Hot Private Reserve, live up to the same high standards as the others?
Ingredients:
Pimientos, Vinegar, Red Pepper Puree, Habanero Chiles, Garlic, Serrano Chiles, Tomato Sauce, Spices, Salt, Chile Pepper Extract, Sugar.
Aroma:
3.5 out of 5. From a peppery perspective, nothing too overpowering. It's got a dark but rich aroma of garlic, chiles, spices, and a hint of onions and tomatoes.
Appearance and Texture:
5 out of 5. Thick, dark red, and full of the clumpy goodness of pimentos, habaneros, chile seeds, tomatoes and spices. It's got great body to it and is "meaty" in texture: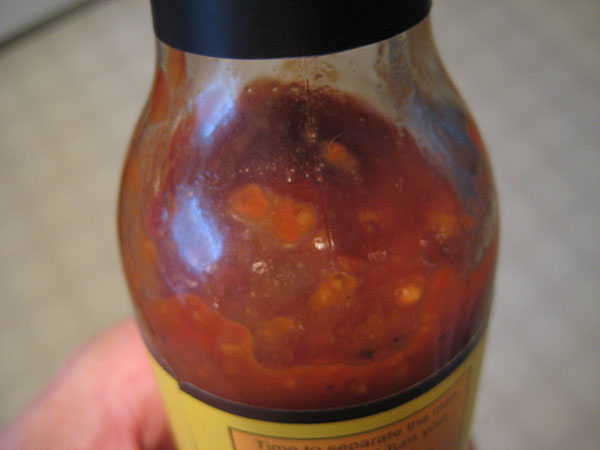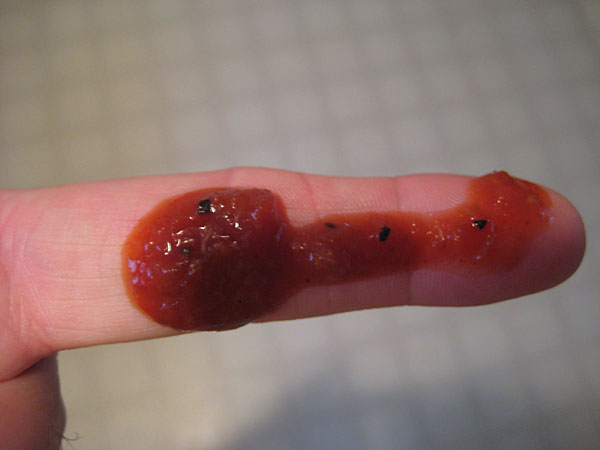 No, I didn't cut myself; it's merely a line of delicious n' peppery XXXTra Hot Private Reserve on my finger.
Taste Straight Up:
4.5 out of 5. A powerfully complex burst of fire and flavor. You get loads of the mild and sweet taste of pimentos, and then the habs and pepper extract hit your tongue like a sledgehammer. Now like most of you, I'm not a big fan of the bitter flavor of extract, but thankfully that taste is kept to a minimum. There's also the light presence of a rich tomato or spaghetti sauce. Don't let that last description turn you off – it's clearly not a peppered-up Ragu. It's clearly the pimentos, chiles, and a dash of garlic razzmatazz that control the taste of XXXTra Hot Private Reserve.
Taste on Food:
5 out of 5. Tonight the Roberts household – aka "Casa Del Roberts" – was dubbed Taco Town. I poured heavy quantities of XXXTra Hot Private Reserve on a pair of meat and bean hard-shelled beauties. Oh God, was it fantastic. It added a rib-pleasing sweetness and a mouth-and-throat-scalding heat to the food. This sauce would do a wide variety of dishes justice: burritos, tamales, burgers, chicken, or even on eggs to bring it up not one, but several levels.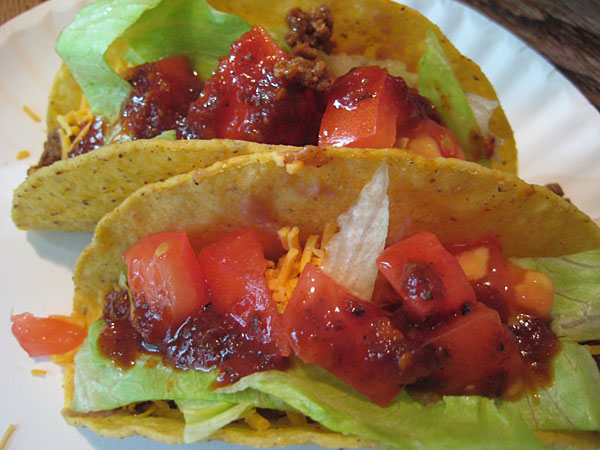 Heat:
4 out of 5 on a scale of 1 to 5, with 5 being the hottest. Watch out! Novices can stick to Mad Anthony's original Hot Sauce. This sauce is for experienced chileheads who love gobs of heat in addition to complexity and great taste (which this has in abundance). The fire takes a second or three to build, but when it does, there's a mighty good burn going on wherever it hits. I'd say it compares to other sauces on the low-end section of the "super-hots" category, and is (in my estimation) comparable to CaJohn's Jolokia 10 Hot Sauce.
Label:
4 out of 5. Handsome plastic seal, both adorned with Michael Anthony's colorful "MA" pepper logo on the side and embossed on the top (so make fun of me – I like little touches like this). Down below of the main label, there's a larger version of the "MA" logo. The rest is decent but a bit plainish.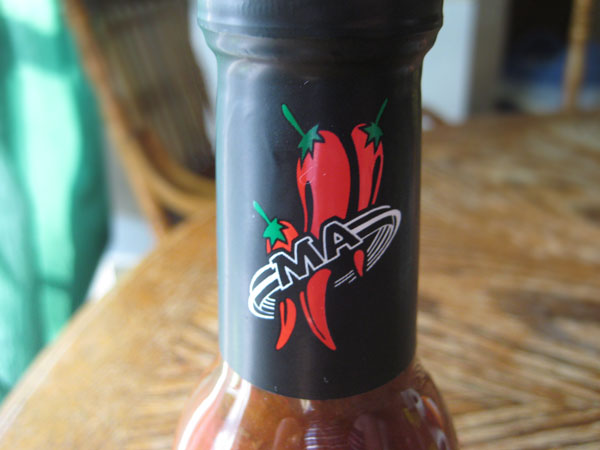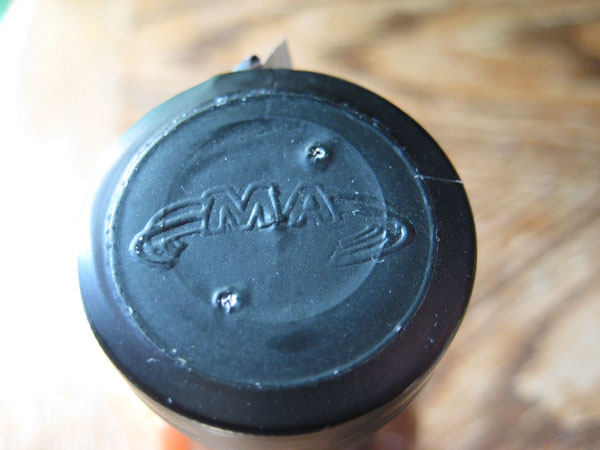 In Conclusion:
You can purchase a bottle of XXXTra Hot Private Reserve at numerous places online, including Mike's own Mad Anthony Cafe website. The price can range from $7.50 to $9.95, so do your comparison shopping and don't forget to include shipping and handling charges to see what the best deal for you would be. But since this comes in a larger 8 oz. bottle, it's worth every penny even if you have to shell out the full ten bucks.
Review – Mad Anthony's XXXTRA HOT Private Reserve Hot Sauce