Review - Kato's Hot Sauces
Scott Roberts
June 1, 2009 at 11:42 pm
food

Digg

Share
Tweet
It's time to put a quartet of hot sauces through their paces. This time out, it's the deliciously unique stylings of Kato Productions' hot sauces - Kato's Down South Hot Sauce, Hemi Hot Sauce, Kato's Meaner Greener Habanero Sauce and Kato's Island Sauce Habanero & Mango, all with something original to offer.
Kato's Down South Hot Sauce

Down South Hot Sauce is killer on pizza, and quite a few other things
Ingredients:
Scotch Bonnet peppers, carrots and vinegar.
Aroma:
Simple and pure. Strong, fresh pepper and carrot scent.
Texture and Appearance:
Dark orange, medium viscosity, with numerous chile seeds floating in the mix.
Taste straight up:
Powerful, and the Scotch Bonnet flavor dominates. The vinegar and carrots make this more than one-dimensional. Fantastic sauce.
Taste with food:
Excellent on pizza. Hits the spot.
Heat:
Very hot, immediate, and long lingering. 4 out of a scale of 1 to 5, with 5 being the hottest.
Label:
Very basic, with a clear plastic sticker and black graphics.
Overall:
This gets my recommendation as a great sauce. An excellent carrot-based condiment with lots of oomph. The number of uses for Down South Hot Sauce is almost limitless.
Hemi Hot Sauce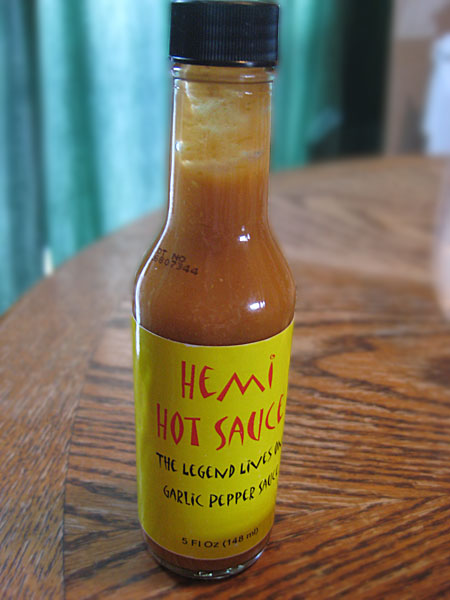 Ingredients:
Scotch Bonnet peppers, carrots, fresh garlic and vinegar.
Texture and Appearance:
Thicker than the others (in fact, quite slow to pour out), less seeds, and more ground up. Slightly lighter orange tint.
Aroma:
More complex than the Down South. More pleasant, the Aroma of each ingredient shines through.
Taste straight up:
Weaker than Down South, still good carrots n' chiles flavor.
Taste with Food:
Nice with eggs. This could also be applied to meat, vegetables, pizza, or as an additive to side dishes that need some heat.
Heat:
Hot, with more kick and tartness from the vinegar and garlic. 3.5 out of 5.
Label:
The plainest of the lot, it's kinda boring with the yellow label and sparce red and black text. It's the only of the four not to feature Kato the habanero pepper eating dog (but technically, it's not a "Kato" sauce is it?).
Overall:
Hemi Hot Sauce, while not as good as Kato's Down South Hot Sauce, is still worth a buy.
Kato's Meaner Greener Habanero Sauce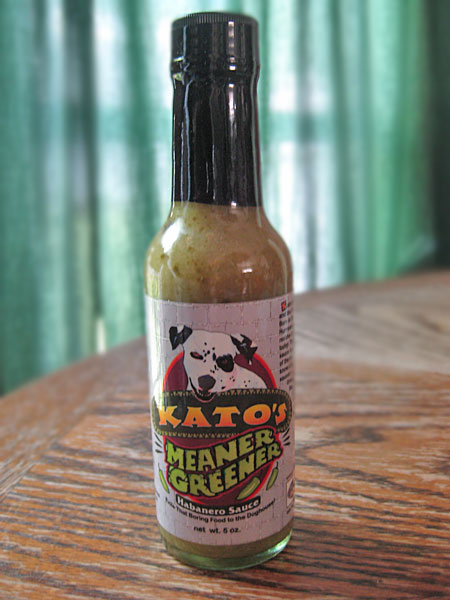 Ingredients:
Tomatillos, green habaneros, garlic, onions, cilantro, cider vinegar, lime juice and spices. No MSG all natural.
Aroma:
Odd blend of tomatillos, cilantro, and garlic. Not the best thing I've smelled, but still refreshingly different. Plus, almost the bizarre hintings of jerk spice.
Texture and Appearance:
Olive green and colorful. Pieces of cilantro, spices, and habanero seeds speckle and decorate the liquid. It's pretty runny, but not watery. Has very little (if none) "stickability"; if you pour some on your fingers, very little "pulp" or "paste" will remain.
Taste straight up:
This is one of the strangest dichotomies I've stumbled upon in the sauce world. On one had, it's dark, tart, yet very flavorful with the brash presence of cilantro and tomatillos. On the other hand, it's sort of weak and watery and requires a good amount of it to let the ingredients come through.
Taste with food:
not the most ideal topper for eggs, but this green sauce is great on foods with many complex flavors - wraps, burritos, loaded nachos, and more.
Heat:
A bit spicy, but milder than the others. 2.5 out of 5.
Label:
Both this and the Kato's Island Sauce have sharp-looking, full color graphics. Nicely done.
Overall:
Could have used a more consistent flavor - you use too little, and it's way too weak; use too much and you'll get more than what you bargained for. If you're able to strike the right balance, I think you'll be pleased.
Kato's Island Sauce Habanero & Mango
Ingredients:
Habanero & cayenne peppers, mangos, mustard, brown sugar, vinegar, and spices.
Aroma:
Sweet, mustardy and spicy. This is also reminiscent of Indian dishes and curries. This may not appeal to everyone, but if you're open-minded enough, this may be strikingly delicious.
Texture and Appearance:
This is a very thick mix (you've got to slap the bottle to get this goin'), yellowish-brown in color, and accented with spices. Used right, this can beautifully complement the look of your dishes.
Taste straight up:
Like a fruity mustard that's make its way through the spicy Caribbean and India. It's stout, blustery and insanely flavorful. This may be too much to take on it's own, if you were to take a fingerful on your tongue.
Taste with food:
Not very tasty at all on eggs, unless you're wanting something completely off the scale weird. Try it on some meats like fish or chicken.
Heat:
This has more flavor than heat, but there's enough fire to separate this from punier sauces. 2 out of 5.
Label:
See Meaner Greener above.
Overall:
When researching this, I discovered that Kato's Island Sauce is a multiple award winner (2000 Fiery Food Challenge, 2001 Scovie Awards), and it's hard to argue with why it picked up those titles. It's one of the best sauces of its kind. Again, this may not be everyone's cup of tea, so be forewarned.

Sauces are hit and miss on an egg and ham omelette. [Left to right] Kato's Meaner Greener Habanero Sauce, Kato's Island Sauce Habanero & Mango, and Hemi Hot Sauce
Interested in Kato's kind of flavor? Hop on over to the Kato Productions website and grab a bottle or two. My favorite out of the bunch is Kato's Down South Hot Sauce. Each one runs for $4.99 per bottle, and with the exception of Down South (which comes in a 6 oz. flask-style bottle), the sauces are containerized in 5 oz. bottles.