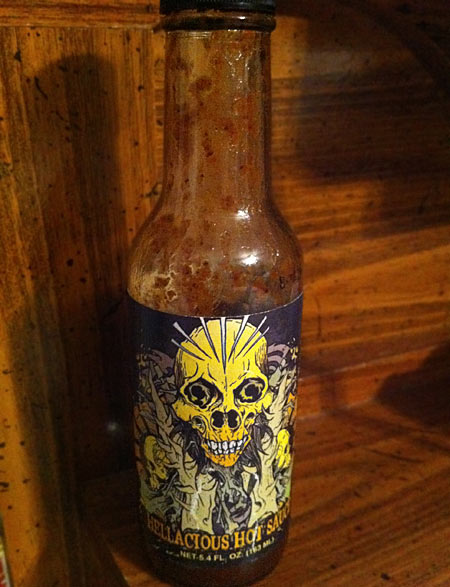 At any hot sauce event I attend, there's always a few folks newer to the industry who walk on by asking me and other bloggers and reviewers to sample their spicy condiment efforts. At the 2011 Peppers at the Beach in Rehoboth Beach, Delaware, one such up-and-comer was Steve Seabury of High River Sauces, who introduced several of us chileheads to his Hellacious Hot Sauce (you can watch our first impressions video at here at ILoveItSpicy.com).
Since that warm May afternoon, I've been meaning to get around to giving Hellacious a formal review. I've been fortunate enough to have interviewed Steve back in September but a written assessment of his sauce hasn't happened until now. So without further ado, here it is…
Ingredients:
White Vinegar, Habanero Mash, Agave, Chipotle Powder, Red Pepper, Minced Garlic, Lime Juice
Aroma:
3 out of 5. A bright, tart, almost citrus-like that packs tang with a lower-end ground pepper scent. It was really hard to pick up with the precise taste of this would be judging only from the aroma of it.
Appearance and Texture:
4 out of 5. A medium-consistency brown sauce not too far off from a runnier barbecue sauce or a steak sauce. It's bespeckled with thousands of dark flakes, giving this a black peppery appearance.
Taste Straight Up:
3.5 out of 5. Very light, with the dull, "dry" taste of chipotle pepper powder that doesn't offer much in terms of smokiness. Then, a tartness from vinegar, citrusy-ness form the lime juice and the fiery punch from habaneros. There's not much of a salty flavor (it's only sodium cloride content derives from the hab mash) and not much garlic could be detected. It builds up with a slight, warming intensity with subsequent tastings; I wanted more to get a more nuanced opinion of its base taste, but I wanted to try this on some grub right away.
Taste on Food:
4 out of 5. In the above video link to ILoveItSpicy.com, several of us were thinking "steak sauce", and used Hellacious as that. I had a Kansas City strip steak cooked to perfection and liberally poured on. Incredible! The bright tanginess and low peppery warmth proved an admirable foil for the luscious cut of beef.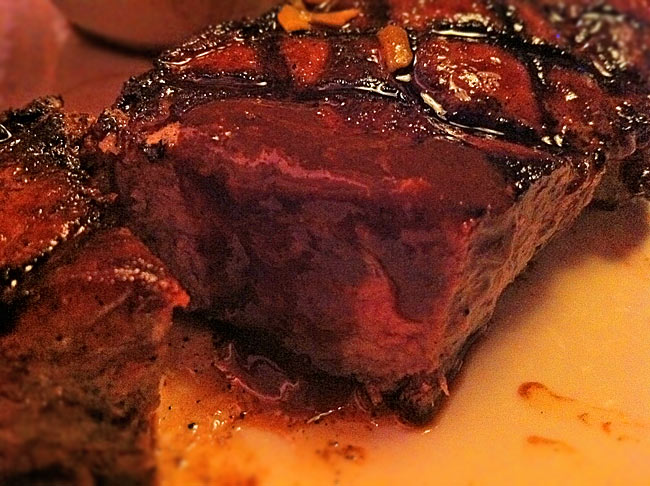 I also used Hellacious Hot Sauce as a marinade for a small serving of chicken wings. I bagged them up in the sauce for let them soak up it all in for over an hour. I lightly dusted the wings with salt and pepper and throw them on the grill. After getting them slightly charred, I tossed the chicken in a bit of extra Hellacious and chowed down. These were some dang good wings.
If this has any deficiencies, it would be that it doesn't "wow" the tongue. It possesses a lot of hallmarks of an all-around enjoyable sauce with tangy citrus and chile pepper elements, yet it lacks the "pop" and addictibility of the top tier sauces out there.
Heat:
1.5 out of 5. I would consider this sauce to be a but below medium on a chilehead scale, or landing somewhere between medium and hot for mild mouths. There's a little bit o' burn in this – probably enough to be an everyday table sauce.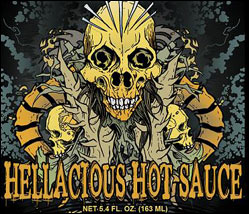 Label:
5 out of 5. cool heavy metal imagery, and fits in perfectly with Steve Seabury's hard rockin' background. I could easily picture this as album artwork.
Overall:
Steve's concocted an awesome sauce. I can't wait to see what else he can come up with.
If you're interested in High River Sauces Hellacious Hot Sauce, mosey on over to their official website at www.highriversauces.com and pick up a bottle for yourself to consume.
Review – High River Sauces Hellacious Hot Sauce