Heartbreaking Dawns is an up-and-coming sauce maker hailing from upstate New York. They're steadily making themselves known to the fiery foods world with an intriguing assortment of hot sauces: Classic Gold, Mango Habanero and Jalapeno Pineapple. Heartbreaking Dawns owner Johnny McLaughlin and his girlfriend Nichole Ramsperger made their initial communication to me via Twitter (hey, who says that the social networking giant has no merit?) and before you know it, I had a package of their hot sauces in my hands. Here is my take on each one individually…
Classic Gold
Ingredients:
Tomato Sauce, Golden Habanero Pepper, Water, Onion, Green Bell Pepper, Carrot, Brown Sugar, Garlic, Salt, Vinegar, Mustard Flour
Review: Classic Gold Hot Sauce (could they have possibly named it after my favorite George Carlin comedy album compilation?) looks like it may possibly be Heartbreaking Dawns' "flagship" product, or at the very least the sauce that appears to be closet to a conventional red sauce. But there's little conventional about this product.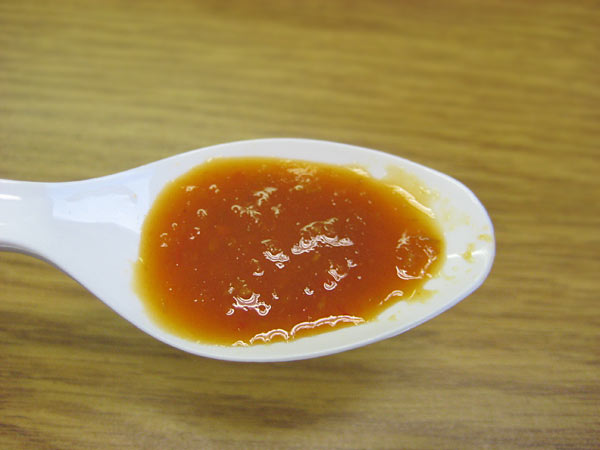 The aroma is a strong marriage of vinegar and habanero chiles, with a dash of a tomato sauce edge. Texture-wise, there are ground up ingredients in a beautiful, medium-thick, reddish-orange liquid base. Upon tasting it off the spoon, I sensed immediate sweetness originating from the tomatoes and brown sugar. This was followed up by a light onion/carrot vigor and a moderately pungent vinegar tartness, and then there was a pleasing, hot, spicy finish. I think this sauce properly employs the habaneros, and the burn reaches a good 3 out of 5, so if you can't take some fire you may want to look elsewhere.
Because of the unique tomato-y sweetness, I thought maybe this could be a sort of oddball cousin to a marinara sauce. I splashed generous amounts on a deli sandwich with ham, genoa salami, bologna and cheese. Mustards, mayo or even a vinaigrette may be standard on these bad boys, but I wanted to see if Classic Gold could "Italian-ize" this up. It was definitely off the beaten path, but I thought it added a very admirable flavor to the sammich.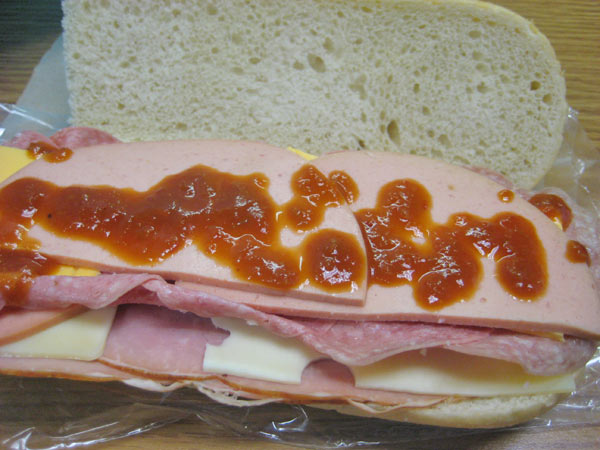 Just so you don't get the wrong idea, I believe this sauce shouldn't be limited to just Italian foods. This might also go well with red meat or Mexican foods as well.
There's one more point to make on this. Heartbreaking Dawns Classic Gold Hot Sauce doesn't rate very high on my "addictability" scale. After consuming some of this, I didn't exactly crave it again right away. I'm reckoning that this wouldn't be a table sauce, but one you would leave in the fridge and take out every now and then when an unconventional condiment is called for.
Overall: Good stuff, and rates 4 out of 5 on overall taste and usability.
Jalapeno Pineapple
Ingredients:
Pineapple, Water, Jalapeno Pepper, Onions, Carrots, Vinegar, Habaner Peppers, Sugar, Lime Juice, Salt, Garlic
Review: This is a deep, murky greenish-yellow, with a thick, almost chunky consistency (like a thin salsa). The aroma is extremely light, and is considerably difficult to pick out the individual components of the makeup of the sauce. I did sense a tiny bit of pepper and a tinge of something sugary kin the scent department. Flavor-wise, there's an off but still compelling vinegar/pineapple base. I actually think it kind of works. Jalapenos are more noticeable in the aftertaste, as are the carrots and onions. This is not pungent or potent at all, and one would have to imbibe in large amounts of this for heat to build up – Jalapeno Pineapple Hot Sauce is undoubtedly designed for flavor and not fire.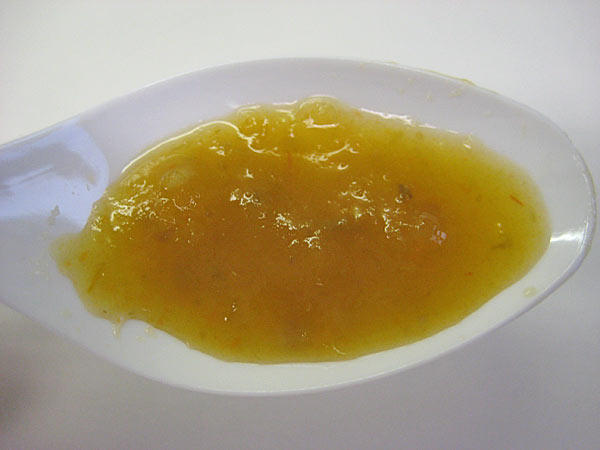 I think this is really suitable for rice dishes, either with fish and chicken. This may work as a marinade, a cooking sauce or a finishing sauce for light meats. I tried it on a chicken, green bean & rice dish and was strangely exceptional: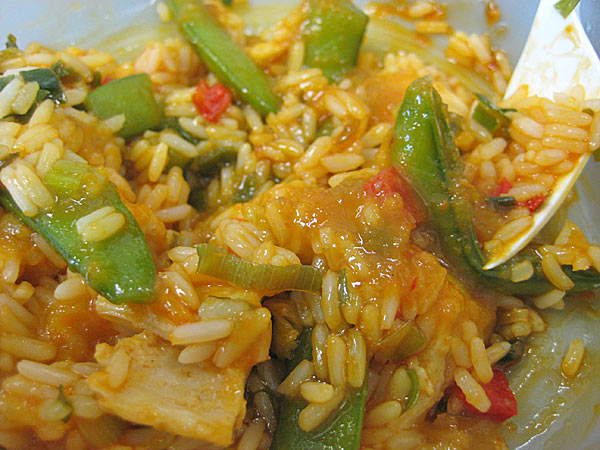 Overall:A fruity invention that you may or may not like. I really did with the right food; yet overall this would rate a 3.5 out of 5.
Mango Habanero
Ingredients:
Mango, Water, Onions, Carrots, Red Habanero Peppers, Lime Juice, Celery, Salt, Garlic
Review:And now we get down to the Mango Habanero sauce, which is named after a pairing I have been known to include in the top 10 food duos of all time (ranking up there with peanut butter and jelly).
This had a very runny viscosity, being easily the runniest of the bunch. It's a murky liquid that's not too deep orange in color. Although it's mostly fluidic, it's accented by an occasional seed or shred of pepper.
Terrific aroma here. The smell was sweet, garlicky and vinegary but light on all parts. There was something I just couldn't place my finger on, odor-wise. Was it peppers buried down in there somewhere? A sour and pungent carrot/lime combo? A blend of mango and onions? Whatever it was it gave Mango Habanero Hot Sauce a luscious, feather-light fragrance reminiscent of fruit and veggies that I loved.
Getting down to the nitty gritty aspects here…the overall flavor. I tasted it off of a spoon at first and bumped into something bizarre. It seemingly had a touch of cinnamon (which was not on the ingredients list) along with the carrot, mango and garlic flavors. Lots of salt was also present (maybe a bit too much). Stinging habaneros followed up and packed just as much fiery punch as the aforementioned Classic Gold – a bold and scalding 3 out of 5 on a heat scale.
I'd recommend this on chicken, as a spicy salad dressing, or as an additive for dishes that need a sweet and chile-laden kick.
Overall:
The taste didn't blow me away, and I was minimally disappointed. It still was a decent sauce that some people might enjoy. 3 out of 5.
Labels
I don't recall where I read that the artwork on these were similar to an Ed Hardy look, but I really didn't notice the similarities until I heard that. I can see where it might be considered alike, but they have a uniqueness all their own. Between the jungle mask, the death mask, and the dancing woman, all are eye-catching and fun to look at. 4 out of 5.
In Conclusion
These are three very respectable entries for a brand new sauce manufacturer. The sauces definitely have more strengths than they have weaknesses, and for that you have to give a newcomer like Heartbreaking Dawns a hand.
All of their sauces go for $6.95 each for the standard 5 oz bottles, or you can save almost 3 bucks if you buy all three for $17.95 plus shipping at http://www.heartbreakingdawns.com/categories/Hot-Sauce/.
Before I forget; you know how I had mentioned Twitter on the onset of this review? Well, you can follow Heartbreaking Dawns under the username of @SpicySauces. They're friendly people and I'm sure they would love to follow your Twitter account back, especially if you're a devout foodie or chilehead. Cheers!
Review – Heartbreaking Dawns Hot Sauces