Review - Doritos 3rd Degree Burn Scorchin' Habanero Tortilla Chips
Scott Roberts
September 29, 2010 at 8:00 am
food

Digg

Share
Tweet
Earlier this summer it was damned near impossible to get your hands on a bag of Doritos 3rd Degree Burn Scorchin' Habanero tortilla chips, at least here in the Midwest. According to DEFCON Creator John Dilley, he was informed that delays were due to some of the ingredients being on back order. While waiting for the third and hottest version of the new "Degrees", I went ahead and reviewed 1st Degree Burn Blazin' Jalapeno and 2nd Degree Burn Fiery Buffalo Doritos. I rather liked the taste of the Blazin' Jalapeno, but I considered the Fiery Buffalo to be in the long, historic line of forgettable Doritos flavors dropped along the wayside.
A few months later, Buddah rushed to the rescue and provided me a bag of the 3rd Degree Burn Scorchin' Habanero chips, apparently readily available in his home state of Virginia. The following is the follow-up analysis of the third and final Doritos Degrees item.
Ingredients:
Whole corn, vegetable oil (corn, sunflower, and/or soybean oil), corn maltodextrin, salt, whey, monosodium glutamate, sodium diacetate, cheddar cheese (milk, cheese cultures, salt, enzymes), artificial color (including: Yellow 6 Lake, Yellow 6, Yellow 5, Red 40, Blue 1), tomato powder, sugar, onion powder, natural flavors, modified corn starch, citric acid, cream, spices, artificial color (yellow 6 lake, red 40 lake, yellow 5, yellow 6), garlic powder, Monterey Jack cheese (milk, cheese cultures, salt, enzymes), sour cream (cultured cream, nonfat milk), Swiss cheese (milk, cheese cultures, salt, enzymes), Colby cheese (milk, cheese cultures, salt, enzymes), artificial flavors, and paprika extract
Thoughts:
Some of the tortilla chips were bright red bordering on a very unnatural hot pinkish color, and quite frankly looked unappetizing. Upon first tasting one, almost right away I felt the tingle of heat. This was mixed with a confusing blend of flavors - it wasn't sweet, it didn't possess the true taste of habaneros, and it wasn't especially cheesy. It had slight tones of tomato, was a tad salty, but lacked strong hints of paprika and onion powder. I think Frito-Lay went WAY off the mark for a harmonious taste and were left with something flat and uninspiring and left the spiciness control the flavor, committing an egregious no-no of fiery foods (which is don't have a product that's hot for heat's sake; have a terrific flavor first).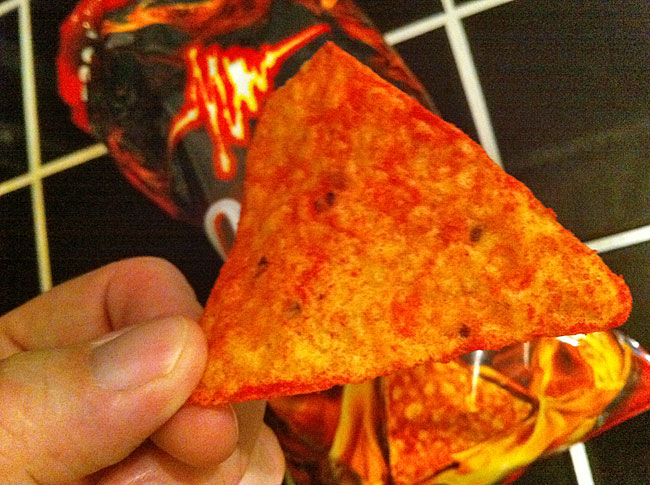 The heat arose considerably after nibbling on several chips. It reached a much higher scorch level than its 1st and 2nd Degree Burn counterparts, and would be considered good n' blisteringly hot for mild snack fans. Chileheads would find it very tolerable and may estimate this to be around a medium heat.
After a while, I simply didn't want anymore. I thought Scorchin' Habanero Doritos lacked any semblance of a true snackability and was something I couldn't care less about ever having again.
How depressing that after reaching lofty heights with the highly underrated Fiery Habanero flavored chips (first introduced in 2006, and now largely discontinued and is only available in a few markets), Doritos has sunk to a low with this junk. The little amount of heat Doritos 3rd Degree Burn Scorchin' Habanero tortilla chips may have is not worth the uninspiring taste.
Overall Score:
Related Articles:
1st Degree Burn Blazin' Jalapeno and 2nd Degree Burn Fiery Buffalo Doritos
Spicy Food Reviews - Hot Sauce Reviews, Hot Snacks, Hot Wings, Seasonings, BBQ Sauces, Condiments, and More