Looking for something that adds a quick kick to just about everything you eat? A little 1.5 oz bottle of Darst Devil Dust, produced by Waddy Spice Traders LLC, may be the answer you've been looking for.
Ingredients:
The label reads non-specifically "a blend of selected hot and mild peppers. NO SALT ADDED". Honestly, what more do you need than that?
Aroma:
4 out of 5. Already being familiar with the scent of my own dried habaneros, jamaicans, and cayennes, I was pleased with the potent smell given off by this concoction. It will certainly wake you up like a morning cup of coffee. A word of warning: if you're not used to the dominating pungency of hot peppers, don't take a direct whiff of Devil Dust; it could be enough to irritate your mucus membranes and send you into a coughing fit.
Texture and Appearance:
3 out of 5. Devil Dust is a ground mix of dark brown and red flakes with some tiny pieces of yellowish chile seeds present. This is not as vibrantly red as some other variations of crushed red peppers.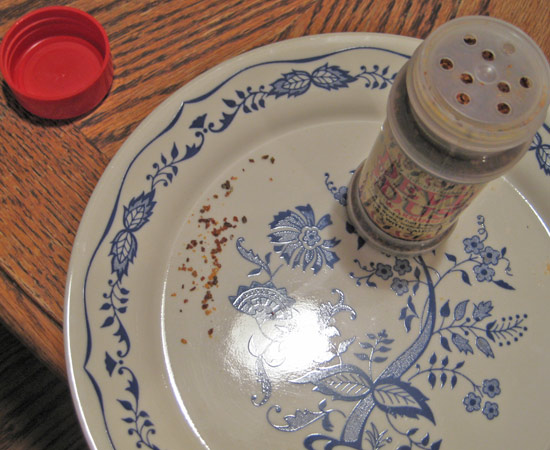 Taste:
5 out of 5. I tried this on three slices of pizza: pepperoni, sausage, and cheese. It added a comforting heat to each slice, and complemented each flavor very well. The taste was both a bit darker and hotter than typical red pepper seasoning you would find at your corner pizza parlor. I detected hints of smokiness, suggesting that perhaps smoked chiles or chipotles are in this particular batch of ingredients. Very fresh chile taste. All in all I loved it, and sprinkled lots more of this spicy mix atop the remaining bits of my pizza.
Heat:
3.5 or 4 out of 5. Devil Dust is aptly titled! It powerfully delivers the goods in the warmth department. I would estimate that this is at least cayenne-level, if not higher. The burn almost hits you right away and lingers for a few minutes after your last bite.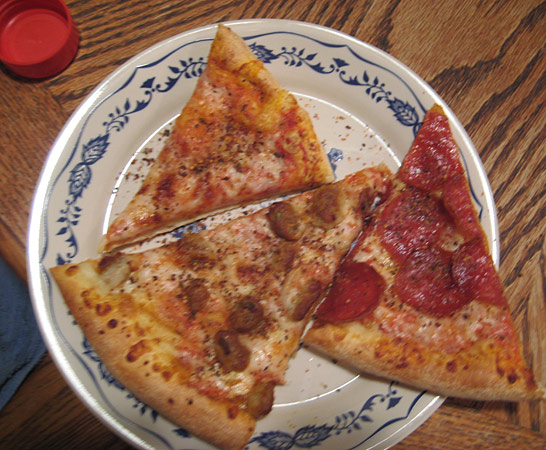 Label:
A small "baby" devil (in a diaper?) is shown holding up a green chile on his pitchfork. A colorful pattern of tiny peppers adorn the top and bottom of the label, which itself looks a yellowed, burned-at-the-edges parchment.
Overall:
This comes highly recommended. I've got a few crushed chile blends that I'm already using on my everyday meals, and Devil Dust will be part of the rotation. If you're interested, you can jump on the Devil Dust website at http://devil-dust.com/ordernow.html and order a bottle.
Review: Devil Dust Crushed Chile Pepper Seasoning