Here comes Crazy Steve's Pickles and Salsa, a young New Jersey company hatched at 11:49 am on July 17, 2009 (as each and every label clearly states!) after an extraordinarily fruitful harvest from a cucumber garden. Steve Zielinski borrowed treasured pickling recipes from his grandmother, branched off into making salsas, and only 10 months later has an extensive live of side-items and condiments.
Steve was gracious enough to send me four different products of his for me to test drive. I have to mention that while all of the salsas I reviewed are marked "insane", a fourth heat level above mild, medium and hot, I though none of these contained extraordinary heat (I explain more below). I don't know if this was a label mix-up or if the "insane" salsas are legitimately that mild, but if the later were true then even non-spice fans could handle these salsas with very little difficulty.
Lastly, I'd like to add that earlier today one of my co-horts in heat, Buddah of ILoveItSpicy.com, a multi-person video review of two Crazy Steve's products done at the recent Peppers at the Beach in Rehoboth Beach, Delaware. This is mere coincidence. Even though Buddah and I talk with each other several times a week, neither of knew of the other's plans to post a Crazy Steve-related review. So I guess today is Steve's lucky day! Seriously, here is my take on Cajun Cukes, Black Bean & Corn Salsa, Raspberry Mango Salsa, and Smokey Mesquite Salsa
Cajun Cukes
Ingredients:
Cucumbers, Water, Distilled Vinegar, Salt, Jalapeno Peppers, Celery, Fresh Thyme, Fresh Oregano, Spices
Good, firm, crunchy texture. Jalapenos have no heat and very little fresh jalapeno flavor. A nice, basic, fresh pickle taste in the cucumber slices with a smidgen of ginger in there. Not sweet but had quasi-sweet spicy sensation. The longer onion "strands" offer a decent crispiness but have very little of their own flavor, just the brine in which they're sitting. Overall these possess only the smallest flammage and pungency. Good on burgers, smoked sausage sandwiches and hot dogs. 3/5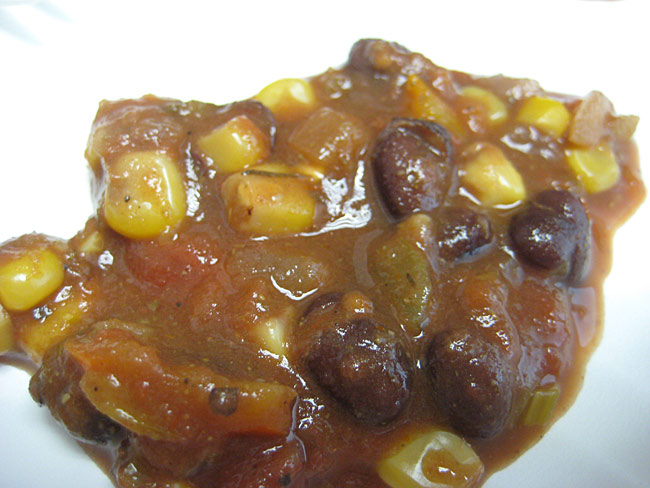 Black Bean & Corn Salsa
Ingredients:
Mesquite smoked tomatoes, black beans, corn, onion, sweet bell pepper, lime juice, jalapeno pepper, natural smoke flavor, cilantro, masa flour, garlic, spices, citric acid
Very little distinction between individual flavors. Taste is "mushy" and blends in together, yet it's still rather good. In a weird way, this stuff is kind of addictive. Contains zero heat. Could be likable with tortilla chips straight or as a mix with queso. 3.5/5
Raspberry Mango Salsa
Ingredients:
Mesquite smoked tomatoes, fresh tomatoes, fresh mango, raspberries, onion, sweet bell pepper, jalapeno pepper, garlic, habanero pepper, lime juice, cilantro, spices
Immediate sour taste. It starts off light, tomato-y and then ginger comes up from behind. Bizarrely, I didn't think there were anything distinctively mango or raspberry in it, just a vague combination tartness and an almost vinegar-like punch with a touch of ginger hiding in the cracks. I loved the fact that the chunks are very large (perhaps bordering on too large), because hey, I like thick and chunky salsas. Unfortunately it had no addictiability to me so this was middle of the road to in my opinion. Like the Black Bean & Corn, there was very little to no heat. This was a big disappointment with the rating of 2.5/5.
Smokey Mesquite Salsa
Ingredients:
Mesquite smoked tomatoes, fresh tomatoes, onion, sweet bell pepper, jalapeno pepper, garlic, habanero pepper, lime juice, cilantro, spices
Rich tomato body and flavor right off the bat. This was starting off wonderfully. Light, smoky tones followed up quickly with a dash of sourness and a tough of ginger (this seems to be Crazy Steve's trademark flavor). All together this blends in together very well with a chunky consistency and a great taste. Smokey Mesquite contains the only real burn in any of these products, but it still doesn't manage to crack the ceiling above "medium" level on heat. This would make an all-around good dip or condiment. 4/5.
Overall
I respect what Steve is trying to do, which is to make salsas and pickle products a little left of center. None of these are what I would classify as "ordinary", and I like that unique approach. Rarely does a food maker hit a grand slam every time he or she is up at bat. Crazy Steve certainly does not do that yet with all of his goods have a style and sense of adventure that has to be admired.
For ordering information or to learn more about the products, dash on over to www.crazystevespickles.com.
Review – Crazy Steve's Pickles and Salsas