Review - CaJohns Trinidad Scorpion BBQ Sauce
Scott Roberts
August 1, 2012 at 10:20 pm
food

Digg

Share
Tweet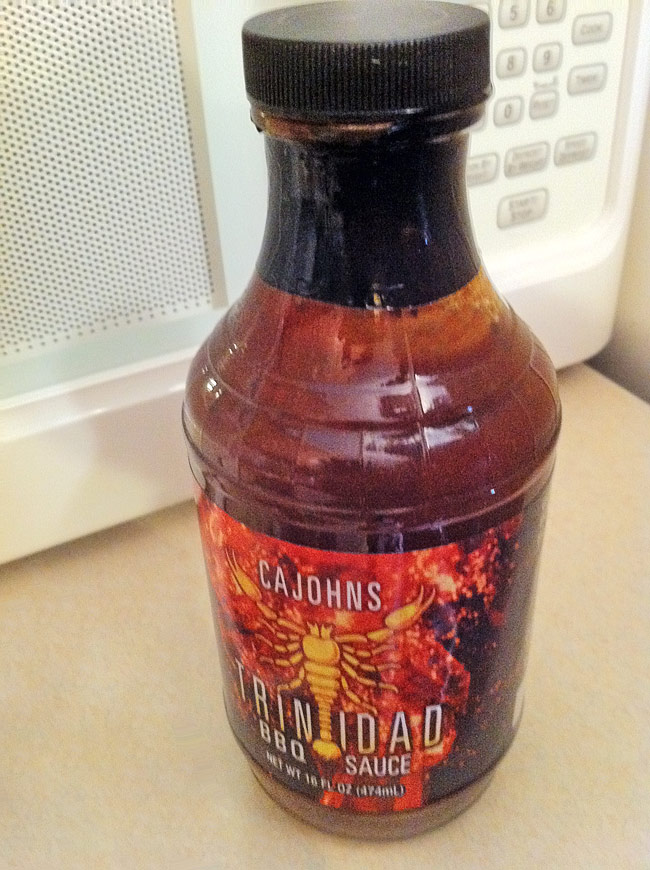 CaJohn's Fiery Foods (headed by John "CaJohn" Hard) not only plays with some of the hottest chile peppers in the world, but more importantly are able to expertly utilize the flavor of the chiles to make a great tasting sauces, salsas and seasonings. While I certainly won't kiss CaJohn's ass - I told him that his limited run of Pumpkin Salsa wasn't a good product - he fact remains that he has an incredibly high batting average when it comes to releasing quality spicy products to the masses.
Within the past year CaJohn has introduced his Trinidad lineup of products, which have employed the world's hottest chile pepper both in taste and in hiccup-inducing heat. Now, he originally used two variations of the Trinidad Scorpion peppers - the Guinness Record-holding Trinidad Scorpion Butch T and the newer and even hotter Trinidad Moruga Scorpions - in his Trinidad brand because of similar heat, flavor, and availability of pods (from what CaJohn has said, it is my understanding that are probably more Morugas than Butch Ts). So either way you look at it, these hellish products contain the current hottest the chile pepper world has to offer.
I'm going to cover CaJohns Trinidad Moruga Scorpion BBQ Sauce this time around. Let's fire up the grill and see if this Trinidad sauce can light a fire in my mouth!
Ingredients:
Tomatoes, Brown Sugar, Vinegar, Corn Syrup, Soy Sauce (Water, Wheat, Soy Bean, Salt), Worcestershire Sauce (Vinegar, Molasses, Corn Syrup, Water, Salt, Carmel Color, Garlic Powder, Sugar, Spices, Anchovies, Tamarind, Natural Flavors, Black Pepper), Habanero Chiles, Trinidad Moruga Scorpion Chiles, Garlic, Onion, Cayenne Chiles, Chile Caribe, Salt, Spices and Natural Hickory Smoke Flavor
Aroma:
4 out of 5. Senuously sweet and smoky. There's some definite pungency in the nostrils from the chile peppers present in this BBQ sauce.
Appearance and Texture:
4.5 out of 5. CaJohn's Trinidad BBQ Sauce is a deep, luscious brown-colored liquid adorned with large, dark spices and lighter specks (onion?). It's nearly perfect when it comes to consistency; this stuff rocks with a medium-thick viscosity. It's got great pourability, yet enough heft and density to not spread out like a runny mess, and will superbly stick to food.
Taste Straight Up:
4 out of 5. I get an immediate sense of sweet tomatoes, brown sugar and garlic, with a chile pepper edge coming almost straightaway. Then, like a cartoon train coming at you as you peer down a tunnel staring at it speeding towards you; before you know it, the train smacks you and flattens you out. This stuff gets hot! While it has a great-tasting base flavor, after a while it's the chile peppers that take center stage.
This may or may not be good, depending on how you look at it. The Trinidad Scorpion chiles (whether or not they are technically Trinidad Scorpion Butch T's or Trinidad Moruga Scorpions), the Habaneros, and other chiles offer the full range of immediate and delayed burn.
I also think the harsh, bitter flavor of the Trinidad Scorpion peppers (again, it doesn't matter much if we're talking about Morugas or Butch T's) lowers my opinion of the BBQ sauce down a notch. If this nagging floral taste from the Scorpions (and to a lesser extent, the Habaneros) could have been dialed down ever so slightly and maybe the sweet elements brought up a tad (perhaps an infinitesimally small amount), this sauce could have been perfect in my estimation.
Taste on Food:
The first time I tested this out on food was with my fellow "Missouri Boy" review partner Ryan Graub when we did a taste test video for it for I Love It Spicy. We munched on some St. Louis-style pork steaks and grilled chicken with the Trinidad sauce, and while we both loved the base flavor, it became almost too much after the third bite.
Another time I dipped pieces of grilled beef kabobs in the CaJohn's Trinidad Scorpion BBQ elixir. Again, good basic flavor, and it was a bit more tolerable this time out, probably because of the overall smaller amount of meat to eat.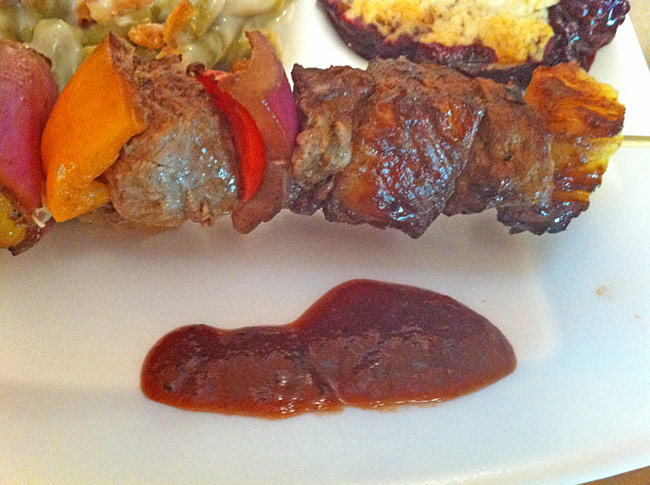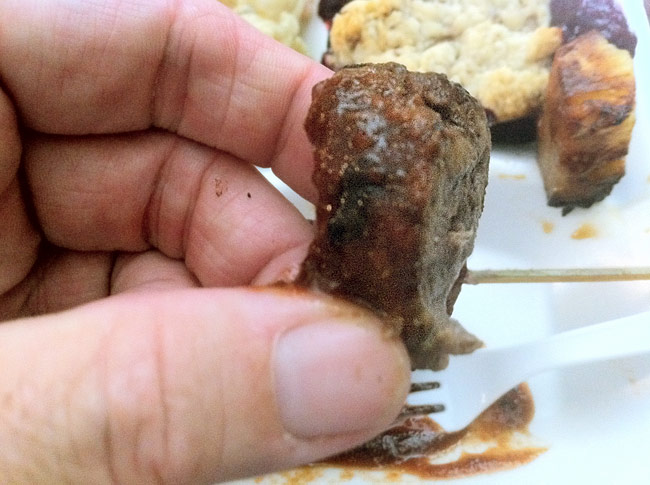 While I love my hot sauces to be extremely scorching, I prefer BBQ sauces to be a more on the medium-hot range of the heat scale. CaJohn's offering may be too hot for regular, every consumption. Well, at least for me, that is. I could not see myself eating a half rack of spare ribs smothered in this sauce. Six chicken wings coated with this BBQ sauce might be something I could look forward to, though.
Heat:
5 out of 5. This is about as ferociously furnace-like as you can get for an ultra fiery BBQ sauce. Like I mentioned previously, it's almost too hot, even for most chileheads! A lot of diehards who complain about never finding a barbecue topper that's never hot enough will be satisfied with this one. If you eat some of CaJohn's Trinidad BBQ Sauce and still consider it to be too mild, then you're a bonafide freak of nature!
Label:
4.5 out of 5. CaJohn's many dozens and dozens of products throughout the years have lacked one single, cohesive, universal look and style...and that's not necessarily a bad thing. CaJohn has gotten top-notch artists and graphic designers to whip up ideas throughout his 15+ year history, and individual lineups of products have had those kinds of uniform looks when need be - his CaBoom! line, his fruit salsas, his Reserves line, etc. The Trinidad line is similar to the Jolokia/"10" style he debuted five years ago, using the same font. The Trinidad products featuring burst of sparking flames in the the background while artwork of a scorpion looms in the foreground center. It's distinctive look would appeal to heat freaks everywhere.
Overall:

There's a great deal about this sauce that I like! Unfortunately, it's simply too hot and spicy to employ it as part of my regular rotation of BBQ sauces. If you are on the periphery of extreme chileheads who are gonzo for mouth burn, then you'd be in heaven with this product.
You can purchase a 16 oz. bottle for $10.00 at the CaJohns website.
Related Articles:
Spicy Food Reviews - Hot Sauce Reviews, Hot Snacks, Hot Wings, Seasonings, BBQ Sauces, Condiments, and More