Boar's Head Hot & Spicy Jalapeño Pepper Sauce is among the most lackluster attempts at a hot sauce I've ever tasted. There's always a much horrible-tasting novelty sauce that exists as being nothing but a pure gimmick, but for a "legitimate" product it really ranks low on the fiery foods totem pole.
Ingredients:
Red ripened jalapeno peppers, vinegar, salt and spices
Aroma:
2.5 out of 5. Admirable. As one would expect, heavy on the vinegar and pepper smell.
Appearance and Texture:
This dark reddish-orange sauce has a medium-thin consistency. Specks of ground-up red jalapenos and spices are present.
Taste Straight Up:
1.5 out of 5. One taste on my fingertip and thoughts of Taco Bell sauce packets came into mind. If that doesn't sound too promising, then you're catching my drift. The flavor was almost like "hot" ketchup, with loads of vinegar taste, some mild pepper, and a tiny bit of…tomato puree? Either my taste buds were fooling me, or they left tomatoes off the ingredient list. Overall, the sauce was bland, "dark" and unappealing.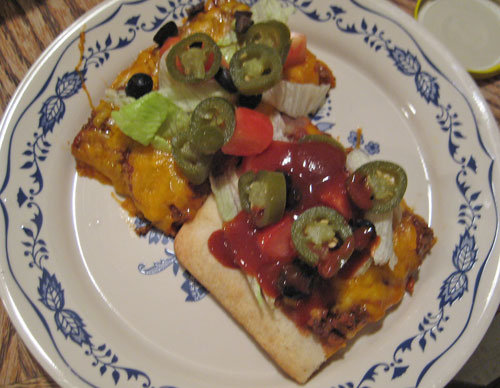 Taste on Food:
1.5 out of 5. It was time to see if it complimented food. My wife cooked up a few of her awesome homemade Mexican pizzas. I doused a big square of pizza with Boar's Head. Bite after bite, the flavor became more irritating to the senses. In my opinion really "cheapened" the taste of the pizza, like it was bad fast food. I honestly couldn't wait 'till the piece was completely eaten so that I could use a better hot sauce on the next slice.
Heat:
1 or 1.5 put of 5. You could feel the lightest of burns. This is safe for just about all chileheads.
Overall:
If you happen to spot a bottle of Boar's Head at your local deli, don't bother picking it up. Stick with their deli meat instead.
Review – Boar's Head Jalapeno Pepper Sauce