With a slogan that reads, "our jerky punches gas station jerky in the face", you know that The Blue Ox Jerky Co. means business, or at least attempt to give the impression that they do. In a world of hyped-up marketing and a more irreverent style used by newer companies, can Blue Ox's claims be backed up by their product? I tested out a couple of their beef jerkies to find out. Blue Ox Jerky Co. sent me their Peppercorn Smoked Beef Jerky and BLAZIN' HOT Smoked Beef Jerkyfor review, and below are my humble li'l opinions…
Peppercorn Smoked Beef Jerky
Ingredients:
Beef, Dry Honey (Refinery Syrup, Honey), Brown Sugar, Salt, Cracked Black Pepper, Spices, Onion, Sodium Erythorbate, Sodium Nitrite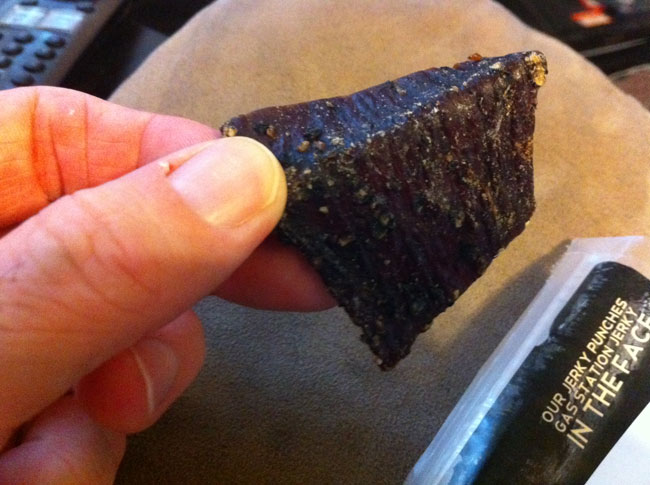 Review:
Peppercorn Smoked Beef has nice, big, flat pieces dusted with lots of coarse ground black pepper. It was a smidge too much on the tough side for me, but nonetheless they used quality meat with its firm but chewy texture. If you like bitey jerky, then this style fits the bill. It's was not too much to deter me from eating this. The flavor is heavy with a good black pepper presence, a bit of sweetness, a dash of smokiness and an all-around admirable balance. A small touch of spiciness gives Blue Ox's Peppercorn Smoked Beef a touch of extra dimension. They did a terrific job on producing a mild jerky everyone can enjoy.
Overall:

BLAZIN' HOT Smoked Beef Jerky
Ingredients:
Beef, Brown Sugar, Sugar, Salt, Spices, Crushed Red Pepper, Onion, Garlic, Sodium Erythorbate, Sodium Nitrite.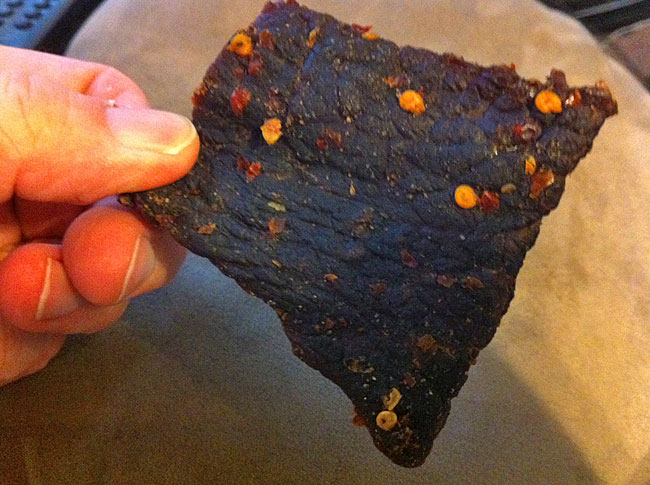 Review:
Blue Ox's Blazin' Hot Smoked Beef Jerky comes in larger flat squares than the previously mentioned Peppercorn Beef. The meat is slightly thicker; the texture requires some teeth to chew up, but is certainly not laborious to eat. Adorning the surface of this jerky is a lot of crushed red pepper & seeds. "Blazin'" can mean a vast assortment of heat levels, but on a chilehead scale this might clock in a 2 out of 5, and 3 out of 5 for mild mouths. The taste is definitely spicier, with slightly succulent sweet undertones, but also a little bit of sourness. Great snacking jerky that's hard to go wrong with.
Overall:

All in all, these are some of the better jerkies I've eaten within the past 12 months. Blue Ox Jerky Co. make all kinds of other jerkies for sale, so I'm curious to find out their venison, elk, turkey and buffalo rate, along with other styles and flavorings. But the two I have just reviewed, Peppercorn Smoked Beef and Blazin' Hot Smoked Beef, are worthy munchies for most any snack fanatic's kitchen cupboard. Both will run you $6.50 each for a 4 oz. bag at the Blue Ox Jerky Co website.
Review – Blue Ox Jerky Co. Peppercorn Smoked Beef and BLAZIN' HOT Smoked Beef Jerky