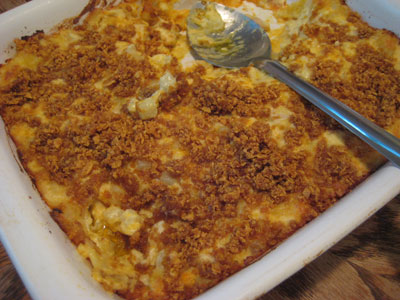 Need something to "wow" all your guests the next time company is over? Wanna blow everyone away at your next family or potluck function? Try this fantastic Cheesy Chicken Potato Bake. It's one of my all-time favorite recipes. There's nothing spicy or peppery in it, but once you take one bite of it, you won't care. It's creamy, cheesy, crunchy, heavenly and melt-in-your-mouth delicious.
Ingredients:
2 lb package frozen hash brown potatoes
1/2 Cup melted butter
1 tsp salt
1/2 tsp pepper
1/2 Cup Chopped Onion
1 Can Cream of Chicken Soup (undiluted)
2 Cups of Sour Cream
2 Cups (10 oz) Shredded Cheddar Cheese
1 Cup Crushed Cornflake Crumbs
1/4 Cup Melted Butter (to mix in with crumbs)
1 tsp of Butter (to cook with Chicken)
2 Chicken Breast Fillets
Directions:
Defrost potatoes. Cut up chicken breasts into 1-inch cubes and cook with butter for approximately 3 minutes in a skillet over medium heat. The outsides of the chicken pieces should be white, insides may be still pink (chicken will finish cooking with other ingredients later). Combine chicken with potatoes in a large bowl with 1/2 cup of butter. Season with salt and pepper. Add onion, soup, sour cream and cheese. Blend ingredients thoroughly. Pour into buttered (3-quart) casserole pan. In a small bowl, mix 1/4 cup butter with cornflake crumbs. Cover potato mixture with crumb/butter mixture. Bake at 350° for 1 hour. Serves 8-10 people. Can be made ahead of time and baked when ready.
Recipe – Cheesy Chicken Potato Bake