Open Fields 2011 Photos
Scott Roberts
October 9, 2011 at 12:30 pm
food

Digg

Share
Tweet
The weather was spot-on perfect for Open Fields 2011. Although last year was thought of as the final Open Fields chilehead gathering/camping excursion since organizer Jim Campbell no longer maintained chile pepper plants on the patch of land that hosted the annual event, the bond of camaraderie proved stronger and people came despite the lack of fresh pods to pick. Although, according to Jim's estimates, only half the number that regularly attends showed up during some part of the weekend, there were still enough friendly, chile-loving folks and cooked-up food to satisfy everyone.
I brought my boys Cory and Kevin to give them a little taste of what Open Fields was all about. Whether it was playing catch football with Jim and me, or tending to the bonfire all day, my boys had a blast; although by the end of Saturday they were tuckered out.
Except for the occasional pepper picking from the "hobby patch" missing and no sauce contests, a lot of things remained the same as recent years, including the auction to benefit Jim's Step Up For Charity.
There was also a bit of "breaking" news overheard by attendees: next year's Open Fields will be most likely be pushed back to its regular September weekend dates; and Jim also announced that he will be planting chile peppers next year, much to the dismay of his wife Abby, but does not know to what extent.
I want to thank Jim and Abby for all they've done!
You can view the entire photo gallery from Open fields 2011 here:
View Thumbnail Gallery | View Slideshow
Here are some select photos with some commentary:

Kevin and Cory with Jim at Casa Del Campbell

The site

The flags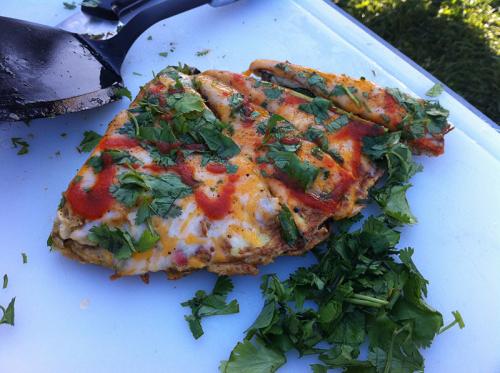 Delicious food was being cooked up from sunrise to sundown! Here's a flippin' awesome fritatta. Two of these were made, and disappeared in seconds.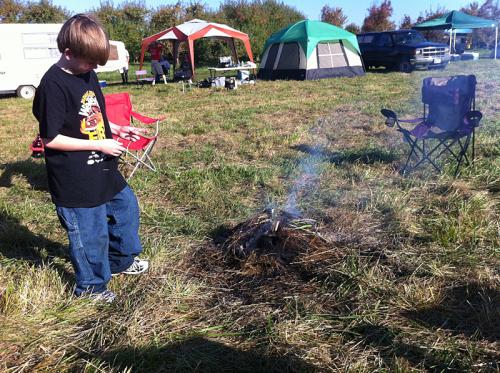 This is the point were Cory turned into a pyromaniac.

Even Defcon's Mini-Nugget Von Beelzebunny could not resist the alure of Open Fields.

Butch Taylor and Bob "Mr. Hobbyfarmer" Shuman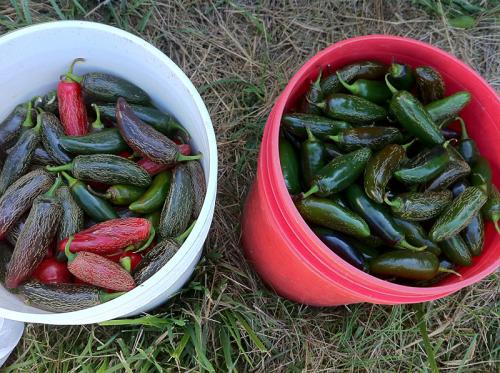 Even though there were no chile peppers to be picked, people still brought more than enough to cook with or share.

Jim going into pimp mode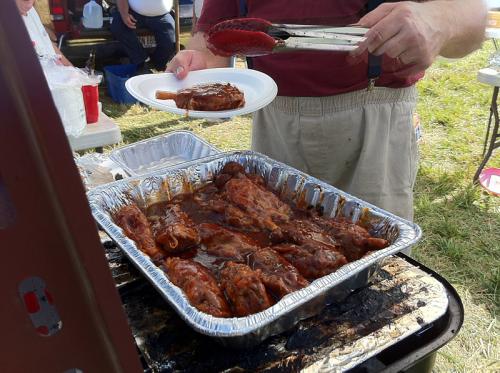 YUM! Hog Wings!

Mini-Nugget making short work of the Huddleston's Fireball Cinnamon Whiskey

Free Trinidad Scorpions courtesy of CaJohn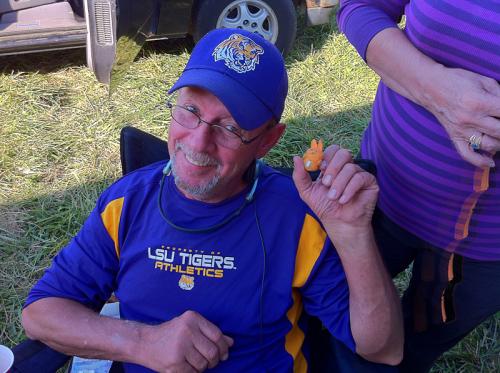 Rumor has it that Mini-Nugget hitched a ride back with Butch back to Louisiana, and was looking forward to having many misadventures...
You can view the entire photo gallery from Open fields 2011 here:
View Thumbnail Gallery | View Slideshow