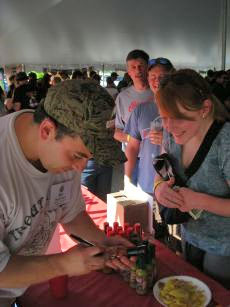 A native of New Jersey, special education teacher Benito Maniscalco got bitten by the hot sauce bug while working as a waiter during his grad school days. He later started producing homemade sauces for another restaurant, and as word got out he expanded his offerings to include his current hot sauce lineup of five different products. He's since relocated to Vermont and is working to grow his presence in the New England area, and thanks in part to reviews on blogs such as Hot Sauce Blog, The Hot Zone Online and my own, he's gaining a national audience.
One thing that sets Benito's Hot Sauces apart from a lot of other newer manufacturers is the usage of all-natural (and often organic) ingredients in the sauce production and the mind-boggling fresh garden taste in each of his bottles. Do yourself a favor and try out some habanero and carrot-laden Benito's Original Naranja on some tacos, or one Benito's other sauces on a double-cheese pepperoni pizza and see what I mean. They're wicked good. Benito's upcoming products include a new habanero & picked bhut jolokia sauce and maple chipotle dry rub, and if he creates them with the same care and attention to quality as his other sauces, they have the potential to be must-haves in every chilehead's kitchen. Which brings me to ask of Ol' Benito…
Scott: When did you first become a chilehead?
Benito: I was working at Mexicali Rose Restaurant in Montclair, New Jersey as a waiter while in grad school in 2002. I found myself really appreciating the different spicy sauces made by the Costa Rican gentlemen who worked in the kitchen. They made a bangin' mole, pico de gallo and salsa verde to name a few. The house sauce was that Iguana one that is actually made in Costa Rica, I can't think of the name now. Anyway in high school and college I always loved a straight up generic hot wing sauce, from having worked at another spot in North Jersey called the Chicken and Rib Crib. Eventually, I just got more and more into it.
Scott: How did you get started making your own hot sauces?
Benito: I didn't really get into homemade sauces until I worked at Mexicali Rose. At the time I had an organic vegetable garden with jalapenos, Thai peppers, habaneros and cayennes growing in it – this was during the pre-jolokia days. I would often chew on a long slim cayenne while tending to the garden. I always really enjoyed their flavor and the intense heat.
Eventually, I started blending the peppers into a homemade concoction that I would bring into Mexicali Rose for the kitchen staff to try. After a few months of trial and error, I started bottling and packaging the first sauce "Benito's Original Naranja" at a different local Mexican Restaurant called the Laughing Burrito. Eventually at the request of family and friends, I expanded the line to include four other sauces (Joe's #1 Jalapa, Old Bricktucky Cayenne, Benito's Mango Habanero, and Benito's White Hot).
Scott: How long did it take you to develop the recipe for your first pepper sauce?
Benito: I'd say it took about four months in the kitchen during my spare time.
Scott: How much did your move from New Jersey to Vermont effect your sauces and your business?
Benito: The move has been great for the business. Jersey is a great place that I am very proud to be from. However, it's hard for a small business with little start up capital to get a foothold in local markets. Sure some businesses, mainly pizzerias (of which there are about 10 per square mile where I come from) and burrito joints would give the sauce a try. But, I found Jersey to be a very difficult market to break into. Also, I had a lot to learn in the early days about labeling, production, and distribution; so at first, like many I was inexperienced. One great thing about Jersey was all the street fairs which you don't see in Vermont. We did a few back in 2006 and 2007 and they really drew a nice crowd.
What's different about Vermont is the strong emphasis on buying local and supporting local businesses, which seems to be huge all over New England.People love local stuff in New Jersey too, but it's so hard to find it because people tend to be driving around in their capsules all the time (like something out of Tron) and so focused on checking off everything on their little checklists that they sometimes forget to stop and see what local products are available in their own towns. Don't get me wrong, [because] Jersey has some beautiful organic farms and produce markets.
Since Vermont has such a strong push for stores to carry local products, it was very easy to get the sauces on shelves in nearby organic/natural food stores, farmers' market type venues, wine and cheese shops and even liquor stores.
What I will miss the most about New Jersey that's pepper related is the fantastic growing season. They don't call it the Garden State for nothing. New Jersey often gets a bad rap – too many highways, pollution, etc. – but actually two-thirds of the geographic area of the state is rural…who knew? Anyway, it's hard to grow habaneros and ghost peppers in Vermont, but we will make it happen once I get some acres and a greenhouse. Lately, I have been snatching up all the fresh local organic chile peppers that I can which are actually in abundant supply right now.
Scott: What do you think is the biggest challenge or hurdle you've had to face thus far in your spicy food industry experiences?
Benito: Volume and marketing. I simply can't drive to every organic or natural food store in New England – or America for that matter – and sell my sauces. Store owners like them enough to carry them. However, it's just not practical or economically feasible time wise and when considering the amount of money I would be spending on gas. This year I will have to bite the bullet and give a couple thousand bottles to a distributor. As for volume…I have to start making 50,000 or 100,000 bottles a year to keep up with demand.
I recently had a radio station in Boston call me up wanting an interview and for me to start advertising with them so that I could break into the Boston market. I was thrilled…the only problem is that I have 450 bottles at home which need to last me through a local brewfest and a harvest fair in early October as well as internet orders that have been picking up. I can always make more, but while I'm in school, it is crazy difficult to do so.
Scott: You use 100% all-natural ingredients in your sauces. How much of an effect do you think it has in your products?
Benito: Simply put, 100% all-natural ingredients give the sauce a fresh taste. I am reminded of this at every harvest festival, brewers' festival or state fair that I do. People are always commenting on how the sauce tastes just like fresh vegetables. I think the addition of 100% all natural and organic ingredients makes a huge difference in taste when compared to a sauce that uses lots of dried ingredients and stuff like xanthan gum or corn syrup.
Scott: What is a typical day for you?
Benito: Usually I wake up, have a cup of decaf coffee, go to work. I'm a special education teacher. Sometimes I nave classes to teach at night at the local community college (Sociology/Anthropology) now I'm teaching on line so I don't have to leave the house for night classes which is really nice. If I am not teaching at night, I am cooking a fresh meal with local ingredients, drying/pickling peppers, sending out orders, booking appearances, working on the website, or chatting with friends. On the weekends I like to go trout fishing at a nearby mountain stream, ice fishing in winter, ride my mountain bike, and go out to explore new eclectic restaurants, of which there are many in northern Vermont.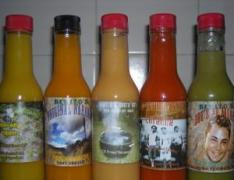 Scott: Approximately how much sauce do you produce in a week or month?
Benito: Since moving to Vermont I have been doing two major production runs per year. One is in February, one is in April, which corresponds to when I have off from work and school. Last year, I personally made 2,750 bottles. It's tough to make a lot at once because I have sworn against the use of contract packers for quality control issues. Therefore, I make all of the products by myself by hand. This year I plan on making around 4,000 bottles.
Scott: You use a lot of habaneros in your sauces. What would be your overall favorite chile pepper?
Benito: I really like the yellow aji which has a sweet zesty lemon flavor but is not hot. I also am one of those people who really enjoys the fruity hot flavor of a nice plump red savina habanero. So I guess it's a tie.
Scott: What would you consider to be your favorite sauce that you produce?
Benito: My favorite is Benito's Original Naranja because of it's versatility. I love and consume them all constantly. But, the Naranja is great on about just everything.
Scott: The Naranja is probably my favorite of yours as well. What is your favorite sauce produced by someone else?
Benito: I really like Salubrious Savina produced by Csigi (Lars) of Pennsylvania an Nando's Chickenland Garlic Peri-Peri. Sorry can't narrow it down to just one.
Scott: How often do you eat your own sauces?
Benito: Daily. Usually with lunch and/or dinner since I have recently stopped eating sausage, bacon, egg and cheese breakfast sandwiches. God, I miss them!
Scott: What's the hottest thing you've ever eaten, whether it be peppers, sauce, or extract?
Benito: Back in 2005 I threw a party around Thanksgiving at my house in New Jersey. Some friends and I passed around one of the dozen or so bhut jolokias that I had grown. I took a healthy bite as did my buddies. All I remember is that I had to take a ten minute or so walk down the street before I could stop uncontrollably spitting and crying!
Benito: I think extract based products fall into the "synthesized junk" category, it's just not my thing.
Scott: What's the "oddest" thing you've ever put hot sauce on?
Benito: At the Bangor State Fair in Maine this past August, someone told me to put some of the Old Bricktucky Cayenne on a doughboy.
Scott: What's a doughboy?
Benito: A doughboy is the Northern New England version of a funnel cake only thicker, it's also similar to zeppole. Anyway, I did and it was phenomenal. The cinnamon in the Old Brictucky Cayenne complimented the fried dough and powdered sugar in an excellent way. I also eat the Original Naranja cold on sushi…it is absolutely delectable!
Scott: What's the average level of heat that you personally eat with your food?
Benito: I would say about a 6 or 7 on a scale of 1 to 10. On a side note…my sauce hawking adventures throughout the following states New Jersey, New York, Massachusetts, Vermont, New Hampshire, and Maine, have lead me to believe that anything hotter than a 5 on a scale of 1 to 10 is simply too hot for most people. I tend to agree with the feedback that I hear from people I meet at the events that we do. If I had a nickel for every time I have had a conversation with someone centered around this comment: "If it's too hot, then you lose the flavor"…I would be a rich man well at least better off than I am now.
Scott: Do you try to stay up in all the current happenings in the fiery food world? If so, what are your info sources?
Benito: I do. I particularly like PeppersAndMore.com, The Hot Zone Online, ScottRobertsWeb.com, TheHotPepper.com and I am starting to dig the HotSauceBlog once again because membership seems to be growing since the introduction of the new format about a year ago.
Scott: Obviously, a large part of growth of new hot sauce companies beyond family and friends is going to local festivals and fairs. How have they helped you? Do you ever see yourself becoming a permanent fixture at larger festivals like the Fiery Foods and BBQ Show?
Benito: Local brewers' festivals, farmers' markets, and state fairs have helped a great deal. Working theses events have given us a lot of local recognition throughout New England. I would eventually like to begin traveling to larger festivals like Jungle Jim's Weekend of Fire, the Houston Hot Sauce Festival, and others. First, we need to pump up the volume and obtain more national recognition. Which will probably take some time.
Scott: How important is online marketing in this day and age? How important are social networking sites such as Facebook, Twitter, etc.?
Benito: Facebook is huge, In the past I used my space to let folks know about specials and events coming up. Now I use Facebook to announce our upcoming appearances and it has proved to be a wonderful thing. I am slacking a bit with Twitter, I need to start using it more. I have made a lot of friends and contacts within the spicy food industry though using Facebook.
Scott: What is your inspiration before you start creating a new sauce or product?
Benito: My inspiration is the dream of one day owning and operating the largest chile pepper farm north of Hatch, New Mexico. I know it can be done here in Vermont, I just need a couple years to stack some capital. I envision myself out in the field with an iron spade loosening up the soil and tending to the plants as the sun sets over the Green Mountains on a hot summer day.
Scott: Do you have any new Benito's Hot Sauce products on the horizon? If so, do you have any details on what they may be?
Benito: I have a sauce in the works now called the Red King Cobb. It is made with Vermont-grown habaneros and pickled bhut jolokias from my aunt's farm in Sealy, Texas. I'm also waiting to release a maple chipotle dry rub made with organic ground chipotle peppers and pure Vermont maple sugar. It is quite possibly the best rib rub I have ever tasted.
Scott: What do you think sets you apart from other manufacturers out there?
Benito: The fact that I make my products myself by hand and that I don't send my recipe to someone else (contract packers) and pay them some money to make it for me. I personally believe that since I hand craft all of my sauces, I maintain a one-of-a-kind fresh taste.
Scott: In regards to obtaining greater and greater success, what would be the next "level" for you?
Benito: I need to stop teaching and start making sauce full time. It's hard because teaching is what I love and teaching is what I'm good at. I've been wrestling with this dilemma for a long time now. I also need some start-up capital to get a pepper farm going, complete with greenhouses and a free standing state-approved production building. I can certainly raise this capital on my own. It's just going to take a while. Maybe I'll try and get on that show Shark Tank and see if I can "make them a deal they can't refuse." Hey, it's worth a shot.
Scott: What do you do when you're not making sauces? Any hobbies?
Benito: I go out to eat, cook, fish, read, and try desperately to "live in the now".
Scott: What question do you get asked the most often?
Benito: Believe it or not the most common question is …."Is it hot?" And I usually respond…"No, not really."
Scott: If you could ask the entire chilehead community in general one question, what would it be?
Benito: "What is your favorite thing to put hot sauce on besides eggs?"
Scott: Where do you see the fiery foods industry going in the next several years?
Benito: I see the fiery foods industry becoming more popular. I predict the death of many novelty sauces – like the kinds you see for sale at Home Depot – in the near future. I think that your average American spicy food enthusiast is tired of salt and vinegar extract sauces. People are starting to become more healthy and are being more and more wary of what they are putting in their bodies.
Scott: Other than gargantuan success for you and your products, if you could change one thing about the spicy food industry, what would it be?
Benito: The death of the novelty sauce. Some people equate the term "hot sauce" with mass produced junk. I don't feel as though I should have to call my product "Benito's Spicy Gourmet Pepper Sauce" to make it stand out amongst all the crap out there. It's hot sauce, that's what it is, it's just a high quality one of which I have tasted many recently. Don't get me wrong, there are many great sauces out there. I would just like people to start recognizing that flavor is just as important if not more important than heat level. I have learned over the last few years that some people can't find a hot sauce that is hot enough for them. That's fine, but then I have to spend five minutes convincing them to try one of my sauces because it "tastes good"…God forbid!
FireTalkers: Interview with Benito Maniscalco of Benito's Hot Sauces