Blog Archives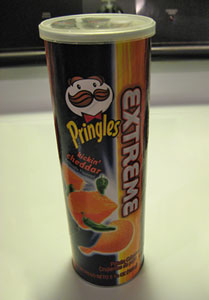 Listen to how Pringles advertises these products:
"Pringles Extreme Flavors aren't for the faint of heart. Brave one bite, and you'll be hooked on the aggressive taste that just won't quit."
"Kickin' Cheddar - This cheddar's got attitude, and it doesn't take orders. So buckle up and get ready for a wild ride."
Wow! Upon hearing this, I couldn't wait to crunch down on one of the products in Pringles' fairly new Extreme Flavors lineup, the Kickin' Cheddar potato chips. Me and my tender little heart were ready for the ride of a lifetime! I have been a huge fan of their Cheese 'Ums (now renamed Cheddar Cheese) since I was the age of 12, so if Kickin' Cheddar was as half as good, I'd die a happy man!
Permalink 3 Comments
Robert Rodriguez is one of the coolest filmmakers around, for several reasons: his awesome flicks (Planet Terror, Sin City, From Dusk Till Dawn, and El Mariachi, just to name a few); his mastery of digital technology and editing; the fact that he writes, directs, edits, and musically scores most of his projects all by himself; and his love of adding loads of DVD extras, which include his "10 Minutes" series. One such DVD short was this 10-Minute Cooking School included with the Sin City disc, which featured Rodriquez creating mouth-watering breakfast tacos. Enjoy!



Permalink 1 Comments
I found a local newspaper website from Petosky, Michigan mention of all things Satan's Blood hot sauce, the Scoville Scale, and hot peppers and sauces in general in an interesting li'l article here. Nothing groundbreaking, just cool to see the "regular" media mention topics such as this.


Permalink 0 Comments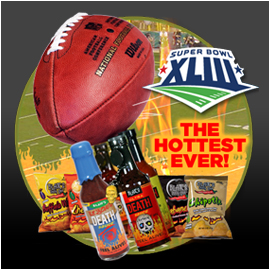 Blair Lazar is offering a discounted "Super Superbowl Package" which contain enough various spicy food items (according to his e-mail) to "make well over 100 chiliheads 'feel alive'". Valued at over $110, Blair's is selling this for $69.95. The package contains: one each of the following: Beyond Death, Original Death, Jalapeno Death, Pure Death, Sweet Death, Nitro Dry Rub, Chipotle Dry Rub, Death Queso, Sudden Death and 28 assorted 2 ounce bags of the World Famous Death Rain Chips. There's a limit of 2 per household, and this deal expires on Wednesday, January 28th, 2009.
Link: http://www.extremefood.com/shop/product.php?productid=75&cat=19&page=1



Permalink 0 Comments
Burger King has now tossed its own gauntlet into the spicy food arena with their new Angry Whopper. I decided to temporarily suspend my diet in the name of research to see if it's up to snuff. I've been let down so many times in the past with spicy burgers and sandwiches from restaurants that I did not expect much out of this. But with the furious moniker, I had a small twinkle of hope for BK's offering.

Permalink 3 Comments
All Occasion Aprons is selling these unique hot sauce aprons. Each one features several different hot sauce bottles on a cotton print, which are sewn onto canvas, making them very sturdy and protective, and have three pockets along the bottom. Each adult size apron costs $19.95 plus shipping and are available at the All Occasion Aprons website.

Click the photo at the right to view a larger image.


Permalink 0 Comments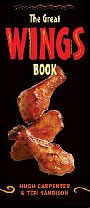 I love the little food books that Ten Speed Press publishes. I have a couple of well-worn copies of The Great Chile Book and The Great Salsa Book. There's a new one titled The Great Wings Book. Penned by Hugh Carpenter and Teri Sandison, it features dozens of various wing recipes for all sorts of occasions and tastes.
Just in time for the Super Bowl, SeriousEats.com is giving away five copies of The Great Wings Book. Just sign up on their website and post a comment describing your favorite snack food before Monday, January 26, 2009. Five winners will be chosen at random from the commenters.

Permalink 0 Comments
For those of you who have never heard of Microsoft's new music creation application called Songsmith, here's the gist: you sing into your computer's mic and the program will create a simple rhythm track based on your melody, complete with electronic drums and a 1980s Casio keyboard-inspired synth accompaniment. Here is a dumb commercial for Songsmith to sort-of see it in action.
Anywho, someone has taken David Lee Roth's raw vocal from "Runnin' With the Devil" and run it through Songsmith to see what it would spit out. the results are hilarious:

Runnin' With The Songsmith

Permalink 0 Comments
More Obama lunacy! Now you can create your own homemade presidential inauguration speech and try to see if your friends can tell the difference between this and the real thing:

Barack Obama Inauguration Speech Generator

Permalink 0 Comments
Hot peppers have an array of health benefits and it's time to get them in your diet.
Dawn Jackson Blatner, registered dietician and author, once said people need to get creative in the ways they incorporate these little red, green, yellow, red and orange vegetable fireballs to acquire a taste for some of nature's piquant foods.
Blatner said hot pepper medicine is exciting because people have these foods already in their cabinets...




Permalink 0 Comments
Here are three ladies attempting to see who can eat ten habanero peppers fastest within a ten minute period. Even with yougart and multiple glasses of milk, they didn't get very far:


Permalink 1 Comments
Miller's Country Crafts Jalapeño Jam is a bright green jelly with a little bit of heat and a whole lot of sweet. I picked up a jar at my local Viviano's market to see what it was like...










Permalink 2 Comments
It's recipe time again! This time, we'll make one of the versitile of all condiments - Mexican Salsa. Trust me; just follow the salsa recipe directions below, and this will taste ten times fresher and more flavorful than any jars of supermarket salsa...






Permalink 1 Comments
- By Elaine Wong, Brandweek
NEW YORK Tabasco today kicked off a multi-million dollar sampling effort that takes its famous hot pepper sauce straight to pizza boxes. Over 5 million Tabasco samples will be delivered to consumers nationwide through Feb. 15.
Thousands of pizzerias are participating. In addition to the samples, pizza boxes will carry a $1 coupon off a 5-ounce bottle of original Tabasco sauce.
Eric Cohen, president of Mangia Media -- the agency that created the pizza box advertising portion of the campaign -- said the strategy is tied in with "the biggest pizza day of the year," that is, Super Bowl....



Permalink 0 Comments
After viewing this, I suddenly got the urge to start taking ballet classes:


Permalink 0 Comments