Blog Archives
Taco Bell to Celebrate Why Pay More™ Menu with National "Taco Tweets" Tour to Reward Fans with Free Food
IRVINE, CALIF., June 22, 2009 – Taco Bell's industry-leading 79, 89 and 99 cent Why Pay More Value Menu is back to kick off a summer of savings for today's cash-strapped customers. Since its debut last year, the Why Pay More menu has provided people with unparalleled taste and selection at an unbeatable price. To celebrate this and remind America that every cent counts, Taco Bell will conduct a road trip as it heads to the midsummer classic, the 2009 Major League Baseball All-Star Game®, feeding fans along the journey from Los Angeles to St. Louis and back...

Permalink 1 Comments
Enough with vying for success. I know what you really want deep down - a blog that fails! Who cares about gaining and retaining an audience? That is SO 2008. Being utterly and completely disastrous with your blog endeavors is the new hotness. Follow all of these wonderfully ineffective tips, and no one will care about your site or ever visit it...



Permalink 4 Comments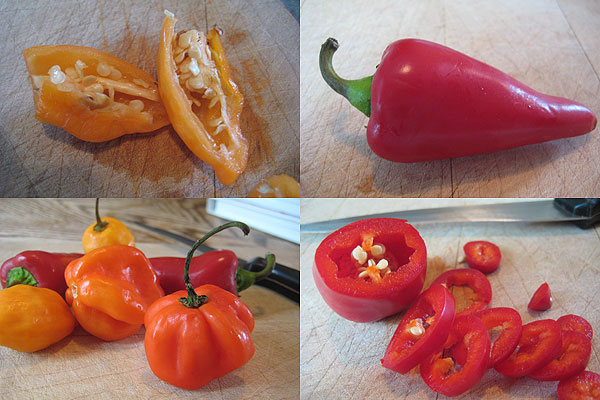 While taking some "stock" photos of hot peppers for various future usage, I thought, "why not share these with everybody?" So I have. Here are 40 free pics of chile peppers in different configurations on a cutting board. Keep in mind that I'm not a professional photographer, so these pepper photos may not be perfect in quality...
Permalink 4 Comments
Garden State thrash metal band WHIPLASH have teamed up with From Mild to Wild Hot Sauce Shop to concoct the first-ever thrash metal hot sauce lineup. Three varieties of culinary cachophony are offered by the band: Last Nail In The Coffin, Power and Pain, and Swallow The Slaughter The band proudly proclaims, "This moderate hot sauce should appeal to anyone with taste buds - It's been a favorite of ours for a long time and we're thrilled to be providing it under this label. Get 'em while...



Permalink 1 Comments
Few things can perk up the "same old same old" like a good seasoning or rub, and one of the top meat enhancers I've used in recent memory is the Just Simply Good Stuff lineup of spice mixes. They were kind enough to send me some seasonings, and in this review I'll cover their Original Rub, Original Rub Smoky Jalapeno, and Smoky Mesquite Salt, which are all terrific in their own right and come with my highest recommendation...


Permalink 2 Comments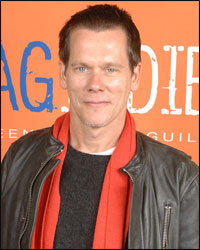 I've never been one to toot my own horn (I let others do that for me), but occasionally I'll break that pattern. I am unbeatable at the Six Degrees of Kevin Bacon game. If you don't know what that is, it is where to you attempt to link anyone in Hollywood - living or deceased - to movie (or TV) roles starring Kevin Bacon within six steps. To throw out an example, Viggo Mortensen appeared in the 1998 remake of Psycho with Rance Howard, who in turn starred in Frost/Nixon with our hero, Kevin Bacon. Easy. Two steps. During long car trips I've been known to enthrall my fellow passengers for hours with my knowledge of all things Bacon in playing this game, even without the aid of online tools such as the IMDB.
To help you in your own personal quest in training yourself to be a Kevin Bacon master, here's a list Kevin Bacon movies for you to study. Then one day you may be able to take on me for the ultimate Six Degrees of Kevin Bacon face-off.
Permalink 5 Comments
The "Pope of Peppers", Dave Dewitt, and writer and editor Gwyneth Doland grill up some delicious-looking cheeseburgers with freshly roasted New Mexico chile peppers. A simple but effective way to get your burgers southwest-style!



Permalink 1 Comments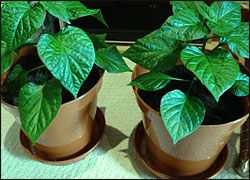 Since I'm not growing any chile pepper plants this year, I've got to vicariously experience it through others. I'm enjoying a lot of the gardening photos and stories over at The Hot Pepper forums, but one online destination I feel is really noteworthy is the Aji Chombo blog. It's one person's detailed growth journal as they grow several different varieties of peppers. Check it out!

Link: Aji Chombo

Permalink 2 Comments
I've put up some more Scoville Heat Units ratings for various sauces on the Scoville Scale. If you know any sauces or chile peppers that are missing from the chart, by all means let me know about them and and I'll get them added. Thanks!

Link: Scoville Scale Chart for Hot Chile Peppers and Hot Sauces.

Permalink 0 Comments
Courtesy of the Boston Globe:
There is a difference among hot sauce fanatics between the tasters and the masochists. For the tasters, hot sauce exists to coax flavor from food and elongate the sensation of taste. The masochists, by contrast, seek to push the limits of tolerance. They're in it for the fix and, of course, the bragging rights.
David Ortiz, the amiable if presently downtrodden Red Sox slugger and self-described "grill-man," is a taster. Inspired by a well-documented affection for spicy Dominican food and backyard barbecues, Ortiz's new line of Louisiana-style hot sauce, Big Papi En Fuego, is for chili connoisseurs (en fuego is Spanish for "on fire"). Now in supermarkets, four preservative-free levels include Original En Fuego, Monster Double En Fuego, Off the Wall Triple En Fuego, and Grand Slam En Fuego, the fieriest...
Permalink 1 Comments

For you or the chilehead in your life...Bhut Jolokia t-shirts! Available in two color offerings - 1. black and dark colors, or 2. white, gray, or light blue - these sweet t-shirts will show the world you mean business with the king of the chiles. Each one is slightly different (the white/light color style has a surprise on the back!) but both feature the text "World's Hottest Pepper. 1,000,000+ Scoville Heat Units" underneath a picture of the ghost chili.
Check them out at http://www.cafepress.com/chileheadtees.
Permalink 0 Comments
In general, who do you think produces the best hot sauces in the world?

Permalink 15 Comments
From the mouth of Blair Lazar:
Dear Chilipal,
Today I am psyched to share with you the most amazing Jolokia Chili Pepper I have ever consumed!!!! I have had these amazing pods lightly wood smoked to further enhance the unreal flavor and skull f&@?-ing heat. As you may know, I have the amazing privilege to visit my own farm near the equator. I recently returned from there where The sun is High and the Chilies make you feel that way!!!!. My 20 year passion for all things piquant, enables me to share with you "The Best of the Best" That is truly what these are. I have a very limited supply of these amazing specimens. You will clearly note the unreal heat, but more important, the fruit flavor with the mellow wood smoke, make this the very best Chili I have ever consumed. (Of Which I have put aside a serious stash of my own) Yes, that is a strong statement for me to make, it's funny, as I write this I realize I have never said that before, I may never again. !!! In any event, these mind-blowing chilies are here now but as I am sure you know, I cannot guarantee I can ever duplicate a batch like this. Mother Nature plays the biggest part in obtaining "The Perfect Pod" You will receive over...

Permalink 0 Comments
Here's a yummy little chocolate that I was tipped off to by someone on Twitter (thanks, @dloesch!). Normally I don't go ga-ga for sweets (especially chocolate), but since this, a) is dark chocolate and, b) has chile pepper in it, it's more than enough of a suitable nominee to try out.
What are the ingredients? The back says...



Permalink 9 Comments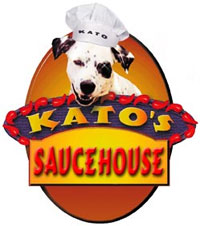 It's time to put a quartet of hot sauces through their paces. This time out, it's the deliciously unique stylings of Kato Productions' hot sauces - Kato's Down South Hot Sauce, Hemi Hot Sauce, Kato's Meaner Greener Habanero Sauce and Kato's Island Sauce Habanero & Mango, all with something original to offer...



Permalink 1 Comments