Blog Archives
Can't make it out west to attend the Hatch Chile Festival this Labor Day Weekend? Perhaps you can go to the 2009 National Buffalo Wing Festival in Buffalo, New York. Started in 2002, the annual event is held in the town that gave birth to the buffalo wing, one of the most beloved foods of both chileheads and sports bar enthusiasts. Over 70,000 fiery food fans are expected to see the sights and chow down on over a half-million spicy chicken wings. Eating contests, a .5K (yes, that's no typo) Running of the Chickens, cooking demonstrations and more await festival-goers.
For more information, go to http://www.buffalowing.com.

Permalink 0 Comments
You know the sign of a really good sauce? It's when you make it tag along with you wherever you go; when you dine out for lunch, when you drive to work munching on your breakfast in the car, and when you walk over to someone's cubicle to splash some on your co-worker's tortilla chips (of course I shared!). You mentally prepare meals in your noggin specifically to go along with that hot sauce because you love it so much. The past two days that sauce for me has been Tom Schickel's all-natural hot sauce creations, which comes in two varieties - Old Man Medium and Kickflip Fire.






Permalink 7 Comments
Lyke 2 Drink and Mike Wirth have produced the stunning infographic above that displays where the best beers and best breweries are located across the United States, according to medals won at lasy year's Great American Beer Festival. The next GABF is being held in Denver, Colorado in just a few weeks on September 24 - 26, 2009.

Permalink 1 Comments
The debate has been raging on for decades, and I've recently been reminded of it again by the comments section of a review posted on The Hot Zone Online - do you prefer chili to have beans or no beans?


Permalink 7 Comments
This is part one of my review of Elephant Pepper products. There's a future one that will feature Elephant Pepper chile pepper sauces, but this one will focus on their seasoning grinders.
I most interject right now that the Elephant Pepper Development Trust is one of the most fascinating associations of which I've heard that has ties to the spicy food industry. They are an African company that both helps in preserving the endangered elephant populations and aiding rural African farmers. You may be wondering what exactly is Elephant Pepper's connection to hot food, or if you visit their website, see that their slogan is the bizarre "Elephants Hate Chilli"?
As you may know, many African people live solely off of food that is grown by local rural farmers. Elephants also love to munch on these small-scale crops. This produces quite a problem for everyone relying on these crops for subsistence, but there is an answer - chile plants! Since the pachyderms detest the smell and taste of chile peppers, many farmers will create a buffer zone of pepper plants around their main crops, minimizing the need to harm wild elephants looking for food. And what do the farmers do with all these excess chiles? Put them in sauces and seasonings, such as the ones sold by elephantpepper.com, the organization's commercial arm. It's a nice little win-win situation for everyone...

Permalink 3 Comments
This kid stands up for his food, and in particular, his bacon. From an episode of ABC's Wife Swap, this boy is certainly quite a character:

Permalink 2 Comments
Here are the Open Fields 2009 details, courtesy of Jim Campbell:
Consider this the last posted invite for Open Fields 2009. Here are some particulars. Come one, come all. Email me for details/directions/invite/info with the subject header of "Open Fields 2009″ for more. In brief, as if there'd be anyone on this list that doesn't already ... :) this is a FREE event**. Hang out with Chileheads from all over the world (Ian from England said he'll be there as might be Oliver from Australia), camp in the fields or stay in nearby hotels, and pick all the chiles you want. Participate in a charity raffle, cook up a sauce fresh from the fields for the contest, eat more food than you can imagine, and yes- probably drink a little bit ;). You can also wish Scott KCK and wife Sherry happy anniversary as this is how/where they spend it! I'll try to arrange another gourmet meal at Richard's Kitchen for those here on Thursday but let me ... so that I can warn them :), Attach faces to a lot of the names you see here on the list! Hobby Farmer & Mrs Hobby with their infamous habanero peach ice cream, Dan from Ft Wayne, Ted the Chilehead, ChefKam, CaJohn, Cameron "Cardinal" Begg, Susan "Chilewoman", and so many others I'll let name themselves! There'll be MSN Rogues (some of whom are 'dual citizens';), Bloggers, CH listers, locals, fans and so many lovers of the pod that I can't keep it all straight The Media has even been known to show up now and again- FoodTV, Living Green magazine, Hoosier Farmer, Across Indiana... who knows - this could be your big break into stardom. They seem fascinated that a sub-culture of folks exist who actually *like* chiles.
Dates are September 26th & 27th, though arriving early and staying late is welcomed. I-69 extension has been approved, not to mention my job change, so one of these years it *will* be the last year. I think this is the 13th, 14th or 15th, or so annual. Directions are NOT to be posted to general forums or blogs- it will be explained why in the email you receive upon emailing me. Slightly over 10,000 plants. Pardon the spellings - I'm too tired to care at the moment. Plants look great, but the chiles are slow since it's been such a cold summer. We've only had a few days over 90 F. We'll see how it goes. Yeeesh - time to start thinking about Port-o-let & tent rentals! Martinsville, though slightly farther, is certainly a straighter shot! They did pave that treacherous little section of road right across from the fields, so that helps the Franklin crowd.
Here are the chiles, since this is supposed to about chiles. List is deemed pretty complete though not guaranteed 100% accurate:
7-Pod, Aconcagua, African Fish, Aji Yellow, Atomic Fire (Chris), Bolivian Rainbow, Big Jim, Beni Highlands, Antillais Carribean, Boris Banana, Bulgarian Carrot, Butch T Hab Cross, Chacoense Red, Chiero Recife, Chimayo, Colba Rawat, Corno Di Toro, Cumari, Duquenes Backyard, Explosive Ember, Fatalii, Golden Nugget, Grif 9123, Grif 9410, Harrolds St Barts, Jamaican Chocolate, Jamaican Red Hot, Kung Pao, Louisianna Long, Malagueta, Marconi, Matt's Peperoncini, Nepalese Bell, Orange Hab, Orange Peter, Pimiento, Poblano, Poinsettia, Pimento, Purple Ornamental, Red Savina(R), Santo Domingo, Serrano, Spanish Spice, Sweet Cayenne, Sweet Diablo, Tabasco Yellow, Tormenta, Trinidad Scorpion, and Zavory
-Jim C
http://www.StepUpforCharity.org
**the raffle and sauce contest are currently the only remaining sources of funds for the StepUp. Participating in the raffle/auction is GREATLY appreciated! There is some way too cool stuff donated this year, as in years past. Plan on bringing a buck or two for that.
Permalink 0 Comments
Here's one I heard about this morning from my wife. She was listening to a St. Louis crap morning radio show. It's the dreadful MJ Morning Show, which is technically based out of Tampa and is syndicated in other Florida towns, in addition to the St. Louis metro area. Anyway, she text messaged me that on this morning's show they were partaking in the "Fire in Your Hole" wing challenge which Adam Richman of Man v. Food had recently taken on (and will be aired on the Travel Channel later in September). She also mentioned that the challenge is using a sauce based on the ghost chile pepper, which chileheads know better as the naga/bhut jolokia pepper. Sounded interesting, but I was unable to listen to the radio segment on my iPhone in time.
One item that was of particular interest to both my wife and me was that while listening, she heard the owner of the eating establishment hosting the wing-eating challenge, Munchies 420 Cafe in Sarasota, FL, claim that the sauce was hotter than 20 million Scoville Heat Units. Now she is not into hot peppers and spicy foods at all, but after listening to me talk about the heat in sauces and chiles over the years, even she knew the extreme heat claim sounded a little fishy. Of course, everyone with even the smallest knowledge of capsaicin knows that the top limit of the Scoville Scale is 16 million, and it's near impossible to create a pure extract that high, let alone 20 million...

Permalink 19 Comments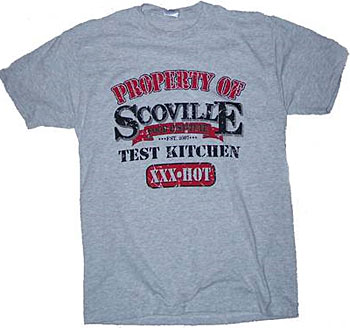 The Scoville Food Institute, whose products I most recently reviewed back in March, is running a promotion for the month of September. If you purchase a 5 Pack of their mild to wild sauces, and you get a snazzy new "Property of The Scoville Institute Test Kitchen" t-shirt (pictured at the right) for free. The whole package will cost you $32 delivered. Not a bad deal for some good sauces and a tee. The 5 Pack includes Scoville Food Institute's Cayenne, Garlic Cayenne, Habanero, Garlic Habanero, and Jalapeno Pepper Sauces.
Go to the SCI website to get the goods.
Permalink 0 Comments
My good friends at Intensity Academy certainly have a way with their chai tea and green tea-infused sauces and have added a brand spankin' new one to the line - a barbecue sauce appropriately called Chai Chipotle Q (you know, short for BBQ). Debuting yet another barbecue sauce in an already flooded market can be a risky proposition, so this had better be an outstanding product. Read on to see what I thought...











Permalink 4 Comments
Permalink 0 Comments

Coming up the weekend after the Austin Hot Sauce Festival (which also happens to be Labor Day weekend) is the famous Hatch Valley Chile Festival 2009 which will be situated outside the tiny town of Hatch, New Mexico. 30,000 hardcore chilehead fanatics will congregate in numerous activities including a chili cook-off, chile roasting, a parade, chile pod competition, carnival rides and contests galore, plus great food and great times for all.
For more information, go to the official Hatch Chile Festival website.
Permalink 0 Comments
If you live anywhere around Austin, Texas, you owe it to yourself to attend the Austin Chronicle Hot Sauce Festival next Sunday, August 30th! There will be live music, great local food, and plenty of hot sauce and salsa to try out! Also, be sure to bring three non-perishable food items per person (as a donation to Capital Area Food Bank of Texas) for free admittance...


Permalink 2 Comments
Buffalo Wild Wings has recently introduced two new flavors to their signature wing line. In this recent case, it is one dry rub seasoning - Desert Heat, and one liquid sauce - Pepper Infusion. This past Thursday I ordered wings with both flavorings, and in the interest of minimizing the mess, I acquired the boneless "wings" which can be eaten with a fork. The following is my review...


Permalink 11 Comments
Direct from Down Under is the 2009 Ol' Man Stillmanz Chilli Wing Competition, held at the at the Seaview in Brisbane Australia!

Permalink 0 Comments