Blog Archives
Do you like hot sauce on your pizza? I certainly do, even if Tabasco Brand Pepper Sauce is one of my least favorite choices. Despite that fact, I found this oddball Tabasco commercial featuring creepy, singing pepperonis kind of interesting:



Permalink 4 Comments
Teacher Gets Community Service, Probation
MIAMI - A teacher convicted of child abuse after her students drank a soda laced with hot sauce will not be going to prison.
Sylvia Tagle was found guilty of one count of child abuse after, prosecutors said, she intentionally allowed children at Bob Graham Educational Center to drink the spicy soda in order to teach them a lesson about not taking her drink.
While that charge came with a possibility of five years in prison, Tagle was sentenced Wednesday to two years of probation and 100 hours of community service, after which the conviction will be...

Permalink 0 Comments
Here's the question for this month: do you currently own a smoker of any type, that you use for smoking meats and other foods?


Permalink 8 Comments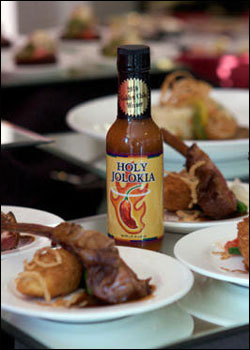 Courtesy the Silver City [New Mexico]Sun-News [Note - I did correct a typo or two]:

Holy Jolokia sauce packs heat, flavor
By Victor R. Martinez / For the Sun-News

LAS CRUCES - The heat level of chile peppers is technically determined by geneticists in white lab coats.

But the real measure of how hot a pepper is comes from the reaction of the person biting into one.

And depending on the Scoville units of the pepper, reactions vary from a red face to pouring tears coming down your cheeks.
Some peppers high on the Scoville chart can leave chileheads sucking air over their tongue, coughing and in extreme cases swollen eyes.
One such pepper, the Bhut Jolokia or the Ghost Chile - the world's hottest pepper - has a Scoville heat rating of one million units. In comparison, Tabasco Sauce has a heat rating of 1,500 Scoville units, and the habanero has a rating of 100,000 - 350,000. The bhut jolokia is supposed to be 200 times hotter than a jalapeno pepper.
The Chile Pepper Institute at New Mexico State University and CaJohn's Fiery Foods have joined forces to create Holy Jolokia hot sauce made from the Bhut Jolokia...

Permalink 0 Comments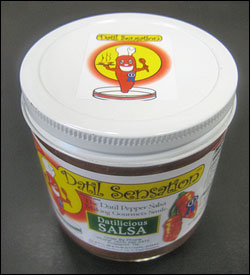 The highly underrated datil pepper is commonly known for two things. One, it is similar both in terms of heat level and fruity flavor to most habaneros (the later of which is my favorite of the super-hot peppers). Two, most of the datil peppers in the world are grown in the St. Augustine, Florida area - in fact, the town holds its own Datil Pepper Festival every year. Wayne King of the small eastern Tennessee burg of Blountville also grows these types of chiles and uses them as the base ingredients for a plethora of condiments and jams under the name of Datil Sensation. He recently sent me a large sampling of these products for me to test and review, the first of which is called Datilicious Salsa...

Permalink 8 Comments
From the Silver City Sun-News from Silver City, NM:

SILVER CITY -- There is a lot of green in the tractor display at the Cliff/Gila Grant County Fair this year, and some of it has carried over to the ice cream stand where green chile ice cream is being made using a green 1924 John Deere "Hit-n-Miss" engine to power two antique ice cream makers. Proceeds from sale of the ice cream at the fair benefit the Silver City Museum.

Silver City residents Norman and Deleen Ruebush call their novel ice cream business "Ice Cream for Any Occasion." It grew out of their shared passion for antique tractors, which they collect and restore. The John Deere-powered ice cream machines are mounted on a covered trailer and make an interesting conversation piece as they churn out perfectly edible ice cream.
The green chile ice cream is a relatively new addition to the business.
"We decided to go to the Hatch Chile Festival Memorial Day Weekend," Norm Ruebush explained.
In honor of the occasion, he and his wife created ice cream featuring the hot peppers that are the centerpiece of the Hatch festival...

Permalink 1 Comments
Aerosmith guitarist Joe Perry was recently interviewed, and he talked about the future of his Boneyard Hot Sauce line:


Permalink 0 Comments
Here is more great footage for the Ol' Man Stillmanz Fiery Wing Challenge held this past August at the Seaview in Brisbane, Australia. After the last video I posted on the competition, here is round two, and there's never a dull moment!


Permalink 1 Comments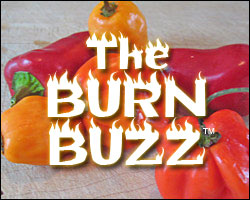 Dishin' it out in another edition of The Burn Buzz, where I list hot n' interesting links about spicy food and BBQ that have been floating around on the intertubes lately...




ChilliPepperPete Naga Tested at 85,540 Scoville Units higher that current world record holder - This cultivar may be hotter than the Naga Bhut Jolokia.


This Chile Pepper Sets Souls Afire - More on the bhut jolokia chile.


Jim Campbell's Open Fields - Report from chilehead Jonathan Passow about the Indiana chile pepper picking, camping, and festival event. Also: Part 2 Part 3 Part4


Domino's Adds Four New Bold Sandwiches to Its Oven-Baked Line-Up - Includes a Sweet and Spicy Chicken Habanero Sandwich and a Buffalo Chicken with Blue Cheese Sandwich.


Blair's Death Sauce Creator Celebrates Double Milestones This Week - The 20th Anniversary of Death Sauce and the 40th Birthday of Blair Lazar.


Subway intros LTO Buffalo Chicken Sub - For a limited time, the world's biggest chain is offering a buffalo-flavored sandwich.


Whataburger Debuts New Buffalo Whatachick'N® Sandwich - The Southern U.S. burger chain also is featuring a limited time offer spicy buffalo chicken sandwich.


Brighton Entrepreneur Launches Home Made Hot Sauce - Canadian man creates his own pepper condiment.


National Hot-Food Craze Fires Up November Pepper Conference - Scientists and producers will meet in November in South Texas to explore ways to improve the industry.


Baska Farmers Towards Commercial Horticulture - An interactive workshop was organized in the Indian district of Baska to discuss local crops, including the bhut jolokia pepper.


Chili Peppers, Native to New World, Add Zip and May Even Be Addictive - Decent overview article about peppers with several recipes.


Permalink 0 Comments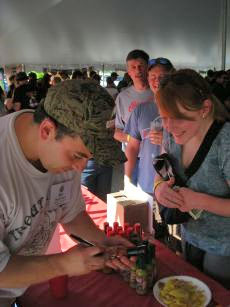 A native of New Jersey, special education teacher Benito Maniscalco got bitten by the hot sauce bug while working as a waiter during his grad school days. He later started producing homemade sauces for another restaurant, and as word got out he expanded his offerings to include his current hot sauce lineup of five different products. He's since relocated to Vermont and is working to grow his presense in the New England area, and thanks in part to reviews on blogs such as Hot Sauce Blog, The Hot Zone Online and my own, he's gaining a national audience.

One thing that sets Benito's Hot Sauces apart from a lot of other newer manufacturers is the usage of all-natural (and often organic) ingredients in the sauce production and the mind-boggling fresh garden taste in each of his bottles. Do yourself a favor and try out some habanero and carrot-laden Benito's Original Naranja on some tacos, or one Benito's other sauces on a double-cheese pepperoni pizza and see what I mean. They're wicked good. Benito's upcoming products include a new habanero & picked bhut jolokia sauce and maple chipotle dry rub, and if he creates them with the same care and attention to quality as his other sauces, they have the potential to be must-haves in every chilehead's kitchen. Which brings me to ask of Ol' Benito...

Scott: When did you first become a chilehead?
Benito: I was working at Mexicali Rose Restaurant in Montclair, New Jersey as a waiter while in grad school in 2002. I found myself really appreciating the different spicy sauces made by the Costa Rican gentlemen who worked in the kitchen. They made a bangin' mole, pico de gallo and salsa verde to name a few. The house sauce was that Iguana one that is actually made in Costa Rica, I can't think of the name now. Anyway in high school and college I always loved a straight up generic hot wing sauce, from having worked at another spot in North Jersey called the Chicken and Rib Crib. Eventually, I just got more and more into it.
Scott: How did you get started making your own hot sauces?
Benito: I didn't really get into homemade sauces until...

Permalink 2 Comments
I'm glad I was able to catch this in time. This very post is, in fact, my 500th post here on ScottRobertsWeb.com! Ever since I first converted my web design portfolio site into a full-fledged blog back in 2007, I had no idea I would be able to keep plugging away with new stuff 500 posts later, let alone 200. I know I've posted quite a few frivolous things, bits of unimportant junk here and there, but hopefully in all that there have been a few articles or reviews that have helped someone or entertained them in some capacity.
I want to give a shout out to those who regularly visit the site and have given a damn by helping to promote it or by linking to it from their own web site. Thanks! My hat goes off to all of you.
I find it noteworthy to see how the site has evolved from an equal 33%-33%-33% balance of spicy food coverage, technology matters, and general topics into something that focuses 98% on spicy food. I never planned it out that way, but I guess it just reflects what's interesting to me in my personal life.
And while I'm on the topic of the website, I'm pleased to report that September 2009 was the busiest month ever on ScottRobertsWeb.com with 25,890 visitors and 23,518 absolute unique visitors (the later of which means that the number wasn't produced by the same person reloading the page over and over). I've had a big boast in traffic since the August 2009 Weekend of Fire show, and the number has been increasing steadily ever since.
Again, my thanks goes out to the readers of this blog. I'd be nothing without you as an audience.
Onward to 1,000 posts...
Permalink 10 Comments

I've been an avid listener to podcasts for going on five years now, and I'm thrilled that someone has finally jumped into the fray with a podcast focusing primarily on hot sauces. It's doubly good that there's a familiar face behind the very first hot sauce podcast - none other than my friend Brian Meagher of HotSauceDaily.com!
Brian debuted the HotSauceDaily Podcast last night with show co-host Randy Combs by interviewing Steve Burnham of BluesBBQ.net. It turned relatively well for a pilot show (with just a few audio hiccups), and promises to get only better in the future with other interviews of hot sauce and BBQ makers, retailers, industry pros, writers and bloggers. Brian is also planning to add different segments to the podcast such as fiery foods news and hot sauce reviews. Yours truly might even make an guest appearance sometime soon.;-)
You can listen as the show is recorded live on TalkShoe at 8:00 PM Eastern/7:00 PM Central on Tuesday nights, and also follow along in the chat room. Or, if you're busy on Tuesday nights, you can download the podcast to listen to it anytime day or night on your computer, iPod, iPhone, or any type of MP3 player. There's all kinds of subscribing and listening options, so go to the TalkShoe HSD page for all the info. Update: Brian has announced that the next episode of his podcast will be pre-recorded and not "live". His updated details are here: http://hotsaucedaily.com/2009/09/30/episode01-bluesbbq-hotsaucedaily-podcast.
Permalink 0 Comments
If you frequent other hot sauce websites, you may have already read the story of how saucemaker Ed Rome used all of the peppers from his harvest to create only one hot sauce this year. That lone sauce is Inner Bhutty, a tribute to the Inner Beauty Hot Sauce. I've never tried Inner Beauty - it's no longer in production and from what I've read, it was a fruity and mustard-heavy Caribbean-style elixir. Ed's new Inner Bhutty (take note of the spelling) is supposedly strikingly similar with the presence of other chile peppers, including the bhut jolokia (but I bet you already figured that out, didn't you?).

Because of prior buzz about the original Inner Beauty, I just had to get my hands on Ed's variation and test it out for myself, to see if this was truly a "bhutty-ful" sauce or not.

There's one thing I have to mention before a jump into this review. I am NOT a fan of Indian food, and when "Island style" offerings get too close to approximating eastern cuisine with an overabundance of curry and sweet ingredients such as honey, they can (to put it diplomatically) be a VERY acquired taste for me. But I'm open for trying just about anything, especially this Inner Bhutty...

Permalink 1 Comments
Randy, one of the moderators from one of my other sites, lives in South Korea and recently had a mouth-watering Korean delicacy called "chicken ribs". Here are his words and photos:

...So here you have Chicken Ribs. Yes - I wrote "CHICKEN RIBS." You're probably wondering...who the hell would eat chicken ribs? What are chicken ribs? Is there really such a thing as a chicken rib?

The only answer that I can give you is that there are no bones in this dish. Why do Koreans call it "chicken ribs?" I have no idea - I need to ask though. My wife and I drove up to the city of Chun Chon last night (roughly 100 kilometers northeast of Seoul) - it's famous for chicken ribs and there are literally dozens upon dozens of chicken rib restaurants there...

Permalink 1 Comments
For those of you who missed the segment on Travel Channel's Extreme Conventions, the whole thing is posted below. This footage was taken from the Fiery Foods and BBQ Show held last February 27 - March 1, 2009:



Many of our hot sauce manufacturer friends are featured, including John "DEFCON Creator" Dilley, Firefighter Jim Campbell, Sue Hard of Cajohn's, Chip Hearn of Peppers.com, Joe Leicht of Flaming Joe's, Danny Cash, Sam McCanless and Co. of Zane and Zacks World Famous Honey, The German Chili Police, Cayenne Caramels from Lillie Belle Farms, and FFS producer Dave DeWitt. Thanks to James Beck of EatMoreHeat.com for providing the full list of featured folks.
Permalink 3 Comments