Blog Archives
For Immediate Release:
7 September 2011

High River Sauces Releases Chris Caffery's Tears of The Sun Hot Sauce

Lead guitarist Chris Caffery (TRANS-SIBERIAN ORCHESTRA) has collaborated with High River Sauces to release an amazing gourmet hot sauce called Tears of The Sun. This sauce is a deliciously dangerous blend of habanero peppers and tropical fruit. Your taste buds are greeted by the sweetness, then rising like the sun on a hot summer day the heat settles in to make this truly a unique sauce. If your food is crying for help...it's crying for some Tears of the Sun!

The Tears of The Sun Hot Sauce will be released on September 12th and can be pre ordered on the High River Sauces website at http://highriversauces.com/main/shop-hr/. Each bottled pre ordered will be personally signed by...

Permalink 4 Comments
In a pinch, I admit that I'll use the thin, rubbery, store-bought flour tortillas for burritos, soft tacos or wraps. If I really want something that pops with freshness, texture and flavor, nothing beats making some homemade flour tortillas for my Mexican-style meals.

Here's a simple recipe for homemade flour tortillas that anyone can do - even the laziest cook out there! After one or two tries, you'll have this down pat. In fact, you'll get the craving for these for whenever you're concocting your own south-of-the-border recipes...

Permalink 4 Comments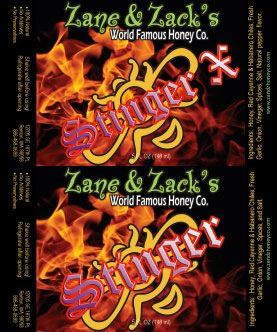 Why is it that every time I review a Zane & Zack's product, I can't find the bottle or jar for reference? When completing a review form posting on this site, I'll almost always go back to the product for a refresher in order to flesh out my original notes on it. When I went to grab my bottles of Stinger and Stinger X, the fantastic new sauces that helped Zane & Zack's World Famous Honey Co. snag the "Best of Show" honor at this year's ZestFest, they were no where to be found in my fridge.

Well, I also lacked a shot of the bottles themselves, even though I had plenty of pics with the sauce on food. Therefore, missing bottles equals no photos from me. What's worse is that there are very few high quality photos of ANY of Zane and Zack's sauces and dips on the internet to "borrow" (let alone Stinger and Stinger X, where they are non-existent); and even Zane & Zack's own website only has the low resolution pictures of the Stinger labels to see to the right of this text.

So I'll plod through this review using only my rough notes and my memory. The good news is, I've used both sauces several times and have indelible impressions etched in my mind of their quality and flavor profiles. So here are my thoughts on Stinger and Stinger X, the later of which only differs from the former by the light presence of "Natural Pepper Flavor", aka capsaicin extract. Enjoy...
Permalink 6 Comments
Yup...Open Fields, the chilehead gathering and camping outing, is back! It will officially be held this October 7th - 10th. Below are the details, with both Jim's words and my words mixed.

First off, if you've never attended and wish to, then send Jim and e-mail at jim @ stepupforcharity.org (just remove the spaces) as soon as possible and he will gladly send you an invite with all the confidential info you'll need to find the "secret" location of the central Indiana fields on which this annual event is held. To help keep local riff-raff out and from possibly crashing the party, once you get directions, please do not post the info on the internet.

Unique about this year will be...


Permalink 6 Comments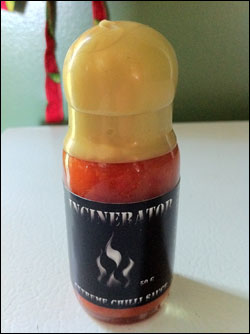 Here's a fairly unique type of sauce: Heatseekers Chilli Incinerator Extreme Hot Sauce with pure capsaicin crystals. That's right, this elixir contains 16 million Scoville Heat Unit capsaicin, the highest obtainable pungency when it comes to the chemical that makes chile pepper burn.

This particular sauce is the brainchild of Candice Burns of Wildfire Chilli from Australia. She submitted me her Heatseekers Chilli Smokey Jolokia Original Steak Sauce and blew mw away by the simple deliciousness and the heat it packed.

With Incinerator Extreme Chilli Sauce, she aims to create a sauce with the base flavor and heat deriving from the 7 pot chile pepper, one of the hottest in the world at between 800,000 and 1,200,000 SHU (hotter than a Bhut Jolokia/Ghost Chile and just under a Trinidad Scorpion Butch T), and make it even more insane by introducing the aforementioned pure capsaicin crystals. How was it done, you may be asking? Are there literal grains and flakes of capsaicin suspended in the sauce that can hit your tongue? Technically, not really...

The thing with capsaicin crystals is that they are hydrophobic. This means they cannot be dissolved fully and directly...
Permalink 21 Comments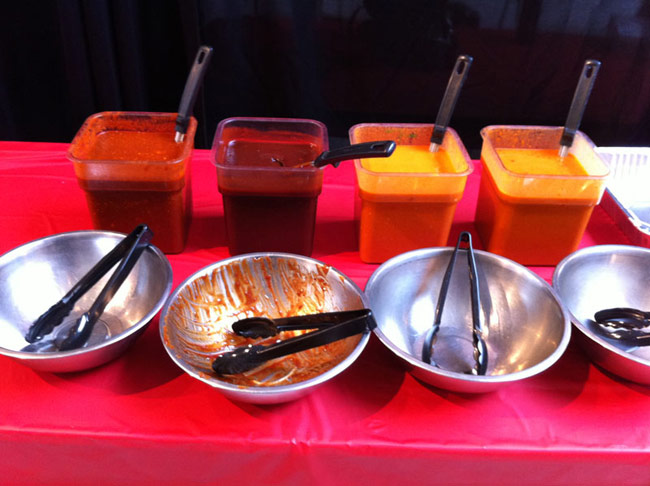 I'm proud and honored to have taken part as a judge in the First Annual St. Louis Wing Ding to benefit United Cerebral Palsy Heartland, which was held this past Thursday, August 25, 2011 at Crestwood Court Mall from 5PM to 8PM.

Tickets were available for the general public to partake in getting all-you-can-eat wings from 15 St. Louis-area restaurants. Around $10,000 was raised for the UCP Heartland charity!

1st place Tastiest – Joe Buck's
2nd place Tastiest – Highway 61 Roadhouse
3rd place Tastiest (3 way tie) – Fallon's, St. Louis Wing Co and
Helen Fitzgerald's/Syberg's

People's Choice – Helen Fitzgerald's / Syberg's

Other Awards:

Meatiest
Permalink 2 Comments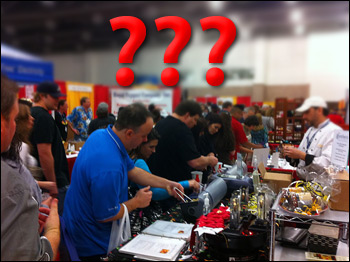 Here's a fascinating topic that got its start on the Facebook Chileheads group: From a vendor's perspective, what food shows, trade shows, contests, fairs and festivals would you recommend getting a booth at to sell your wares and to market yourselves? It received a few insightful comments, but I would like to know what a lot of the other product spicy manufacturers think of what has worked for them and was they deem successful.

But what do they define as "success"? There are definitely a lot of different methods vendors could use to determine that: the amount of wholesale orders, retail sales, industry contacts, brand exposure & marketing, value vs. costs, etc.

Many of us non-manufacturer chileheads get caught up in how "fun" a show is; and while vendors love a good time and socializing with friendly folks, they ultimately have to get something out of it and recoup their loses. If there are poor sales, high booth fees, huge drayage costs and long travel times, then ultimately all the camaraderie may not be worth it.

Many of you know that I maintain the largest calendar of hot sauce/chile pepper events on the web. On it you can find the National Fiery Foods & BBQ Show in Albuquerque, NM, ZestFest in Irving, TX and the Houston Hot Sauce Festival, which may be a handful of the larger, more popular events in chiledom; and the NASFT Fancy Foods Shows are gargantuan monsters showcasing ALL kinds of cuisine and products. Yet there exists a large number of other worthy events to mention as well.
What do you see as some of the better shows and festivals on national, regional and local scales? Is there anything that you would consider to be an over-hyped wash? Any events that are highly underrated? What would you recommend for younger companies trying to get their name out there and to start enjoying some brisk sales?
Permalink 19 Comments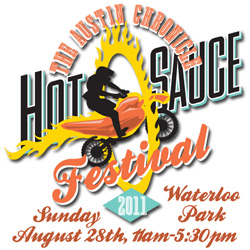 Another year, another highly-anticipated Texas show... the 21st Annual Austin Chronicle Hot Sauce Festival will be held at Waterloo Park, in Austin, Texas, this Sunday, August 28th from 11:00 am to 5:30 pm. It, by most accounts, is one of the most underrated hot sauce festivals in the world; and with crowds reaching up to 15,000, it's also one of the biggest.

If you reside anywhere in central Texas and love the spice, make it a point to travel to Austin and check this show out. There's a gargantuan amount of tasty and fiery products to taste, contests and lots of live music. Admission is always free (yes!), but you are asked to bring three non-perishable food items as a donation to Capital Area Food Bank (CAFB) when you walk in.

Get the low down at the official website here: http://www.austinchronicle.com/Market/HotSauce.
Permalink 3 Comments
I get a kick out of when old standbys get a new lease on life. Just last month, I discovered a new company called Born to Hula Hot Sauces begetting a promising line of condiments that while they offered something with their own spin, they still retained the classic flavor profiles of sauces you already know and love.

Gringo Valley carries that spirit with their Original 10 Pepper Salsa, a complex coalescing of various chiles (ten, hence the name) that form the base for what deep down is a reliable and utilitarian salsa. This Ohio outfit prides themselves in not only producing a delicious food item, but also one that is gluten-free, contains all-natural ingredients, and has no additives or preservatives.

Permalink 7 Comments
Earlier tonight my favorite Texas-based chili makers, Cindy Reed Wilkins and Bruce Wilkins, e-mailed me a video highlighting their entire top-notch product line. The Cin Chili product presentation has since been uploaded to YouTube for the enjoyment of everyone.
For pre-existing fans of Cin Chili, there's nothing particularly new here. It looks as though it was made as both a commercial for the general populace and as a promotional video for perspective retail outlets not yet selling this line of spicy products. Bruce told me that they're going to put this on a DVD and loop it at food shows and festivals Cin Chili attends.
If you've never tasted Cin Chili's wondrous food items for yourself or are interested in carrying them in your stores, mosey on over to cinchili.com or give Cindy a call at (832) 372-7049. You won't regret it!
Permalink 1 Comments
Here's a video update on the Alaskan mother who gave her adopted son hot sauce and a cold shower for acting up.
What was the 7-year-old being punished for? Wriggling in his seat; pencil sword-fighting at school, and then lying about it to his mother.
Do you think trying the woman was a gross over-reaction in a politically-correct society? Is eating hot sauce or taking a cold shower "child abuse"? Or did the mother go way over the line in acceptable punishment for her son's misdeeds?
Permalink 17 Comments
Below are all my videos, reviews and appearances on other websites. These are of course outside of anything that's on this very site.

It also excludes regular product Reviews I've done on the BBQ Central Radio Show podcasts and the Hot Sauce Weekly podcasts. Keep in mind that some radio appearances which were once in podcast format are no longer available, including WLS Chicago, WMMS Cleveland and El Universo Radio City in Ecuador.

I have provided hot sauce and product Reviews for Peppers and More since 2008, and some of the post content has been duplicated on there from this site and vice-versa, so those have been left off this list as well...

Permalink 2 Comments
Whether or not you like him (that's a topic to be discussed another day), you have to admit that Guy Fieri has one of those in-your-face personalities that demands attention. I can't vouch for what the Guy (pun intended) is like in person, but he seems like a cool enough dude, with an earnest interest in bold, spicy, flavorful food that regular, no-nonsense joes like me can appreciate. When I got wind that he was releasing a line of salsas in addition to BBQ sauces, I thought that these might have some potential, unlike some of the other crap that a celebrity chef's name has been slapped on only to make a quick buck.

Fieri's people had shipped me his new grocery store lineup for review: Old Skool Original Salsa, Green & Mean Salsa Verde, Da Spice Is Right Chipotle Salsa and Burn Baby Burn 7 Pepper Salsa. Overall I think this saucy quartet is a sad letdown, yet I discovered some good elements in a couple of them...
Permalink 17 Comments
If you've paid close attention to my blog the past couple of years, you know I'm a fan of filmmaker Robert Rodriguez and his clever 10-Minute Cooking School series that appear in the bonus features of his DVD and Blu-Ray flicks. I loved his recipes covering his delectable Puerco Pibil and spicy Sin City Breakfast Tacos.
This latest installment is from the latest special edition of his Planet Terror release: Texas BBQ. Thank the Lord...Rodriguez doesn't screw it up! Although I disagree with them about a few minor things - his disdain of pork ribs; his way-too-basic beef rub (Nine parts black pepper and one part salt? Is that all?) - but he demonstrates some very accurate rudimentary knowledge of how to smoke low n' slow some brisket and beef ribs. Watch this and you'll see one of the best and all-around coolest writer/directors in the entertainment biz who honestly knows a thing or two about food:
Permalink 3 Comments
Seems like every time you turn around these days there's a new hot sauce-flavored snack product. It just goes to show you the widespread acceptance of spiciness into the mainstream.

The results thus far have been so-so. There have been a few chips and snacks with substantial taste and heat, while others are lamentably terrible.

Which brings us to the latest spicy munchable- a pairing of two well-known brands: Cholula and Jack Links. I've regraded Cholula as one of my most beloved hot sauces of all time, despite it being a mass-produced fiery foods product. Jack Link's makes some acceptable jerky, enough to satisfy my palette as a beef jerky connoisseur. So there may be good things available under the name Jack Link's Cholula Hot Sauce-flavored Beef Jerky.

This new product is available in a 3.25-ounce resealable bag and has a suggested retail price of $5.99. The flavors include a combination of often-used term "secret spices,"" pequin and arbol peppers.
"The combination of these premium brands and iconic flavors resonate well with our consumers and are a natural fit in quality and reputation," stated Kevin Papacek, Jack Link's Beef Jerky Brand Manager of Innovation. "Jack Link's new Cholula hot sauce beef jerky provides consumers with convenience, satiety, protein and guilt-free snacking, all wrapped up in the flavor and heat of Cholula's hot sauce."
Permalink 2 Comments