Blog Archives
I'm wishing, hoping and praying that each and every one of you out there has a Merry Christmas and a Fantastic New Year!

It's been quite a wild ride for me in 2011. Through the grace of God, things have gotten much better. And with each passing day, life continues to get richer and more meaningful. I've been blessed with many loved ones and friends (and that includes many of you!).

Always remember to give thanks for the little things in your life, as they are things that truly matter. Here's to your loved ones, joy, contentment, prosperity and the best holiday season ever (I'm honestly not trying to sound like a kids' show when I say that last part)! Cheers!


Permalink 4 Comments
You may not want to hit your female parental unit, but Habby Habanero's Slap Your Mama Hot Sauce proves to be a good enough spicy condiment to perk up your meals...








Permalink 4 Comments

It's hard to believe that what was once was considered to be one of the two biggest indoor spicy foods trade shows, ZestFest, is just a little over a month away. The always-fun event is being held at the Irving Convention Center at Las Colinas, in Irving, Texas, on January 27-29, 2012.
Last year marked it's shocking departure from it's usual timing of September to late January. It was controversial move for sure, as it brought the show within less than 45 days with it's "competing" event of the National Fiery Foods & BBQ Show in Albuquerque, NM in early March. Lots of people speculated that both trade buyers and public attendees might not purchase as much due to the Christmas holidays being only one month earlier. And what about the potential of horrible winter weather slowing down vendors and attendees from other regions of the country? Also, it was being held in the brand-spanking new Irving Convention Center (as a matter of fact, it was the inaugural event for the just-built facility), so that was yet another wild card thrown into the mix.
But the new owners, new venue, and what was promised as an all-out media blitz in Dallas/Ft. Worth a week before the metro area hosted the Super Bowl gave hope to what was essentially a gargantuan gamble...

Permalink 0 Comments
The debate has raged on for decades. Sure, it's been asked many times before, but now I want to pose the question to YOU!

Do you prefer the dish known as "Chili Con Carne" WITH or WITHOUT beans? People on both sides of the fence are fiercely passionate about how they prefer chili, so please vote below and then be sure to give your thoughts in the comments section!


Permalink 6 Comments
Local salsa maestro Peter McNees of Pyro Pete Sauces & Rubs recently appeared on FOX 2 News in St. Louis with reporter Tim Ezell to promote a little bit of flavor and fire. Peter was kind enough to give me a little shout out on the air, which you can see in the video below:



I had reviewed Pyro Pete Sauces Ultimate Salsa well over a year ago, and loved it so much I named it my favorite new salsa of 2010. To get some of Pete's tasty concoctions yourself, head on over to http://www.pyropetesauces.com.
Permalink 0 Comments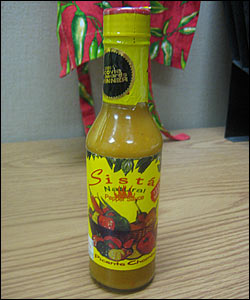 My latest review is of Sista Natural Pepper Sauce (Picante Chombo), which is billed by creators Alisina, S.A as a "flavorful Panamanian-Caribbean style" elixir. This product of Panama snagged a 3rd place award at during a recent Scovies, so I was intrigued in seeing what this condiment had to offer.

Ingredients:
Aji Chombo (Scotch-Bonnet Peppers), Aji Dulce (Sweet Peppers), Cebolla (Onion), Ajo (Garlic), Vinagre (Vinegar), Curcumin (Turmeric)

Aroma:
3.5 out of 5. Powerful garlic and pepper smell with a dash of onions thrown in. I kind of...



Permalink 0 Comments
Scorned Woman Hot Sauce may have one of the best names (as in the old chestnut "Hell hath no fury like a woman scorned"), but does it live up to its hellish moniker? Read on to find out...




Permalink 5 Comments
Go, Johnny, go!

Our good friend Johnny McLaughlin of Heartbreaking Dawns announced many a moon ago that he auditioned for and would eventually appear as a contestant on Food Network's Chopped show.

Just last night on Facebook, Johnny was able to provide the date and time of the episode on which he was to appear. He will be on at 10PM ET/9PM CT, on Tuesday, January 3, 2012.
If you've seen Johnny at many of Heartbreaking Dawns' live cooking demos, or have viewed his entry videos for ILoveItSpicy.com's Feast Your Eyes on This Spicy Cooking Challenge, you know that he brings to the table wild imagination, inspired versatility, and, as I tasted at this year's Peppers at the Beach, some really masterful flavor ideas! He will definitely give the other competing chefs a run for their money!
So don't forget to tune in (I'll still remind everyone!) and see if Mr. McLaughlin can come out on top!
Permalink 9 Comments
A few weeks back I asked readers to contribute a witty/crazy/hilarious caption featuring our current U.S. Veep, Joe Biden. Most of you did not disappoint. Although it was difficult picking one, I have decided that the winner is...
Nick1977! He contributed the line: "I've heard of Executive Privilege, but this is ridiculous."
Congratulations! Contact me privately, and I'll get a bottle of hot sauce to you. Thank to everyone who participated, and I look forward to seeing what you come up with next time.
Permalink 1 Comments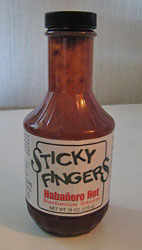 Here's more BBQ in the upcoming American winter, courtesy of Sticky Fingers Habanero Hot Barbecue Sauce.

Ingredients:
Water, Tomato Paste, Brown Sugar, Molasses, Vinegar, Pepper Sauce (Vinegar, Red Pepper, Salt), High Fructose Corn Syrup,, Salt, Worcestershire Sauce Concentrate (Distilled Vinegar, Molasses, Corn Syrup, Water, Salt, Caramel Color, Garlic Powder, Sugar, Spices, Tamarind, Natural Flavor), Spices including Habanero Pepper, Lemon Juice Concentrate, Onion, Lime Juice Powder (Corn Syrup Solids, Natural Flavors), Garlic, Smoke Flavor, Modified Food Starch, Dextrose, Sodium Benzoate (Preservative), Xathan Gum, Natural and Artificial Flavors and Monosodium Glutamate.





Permalink 1 Comments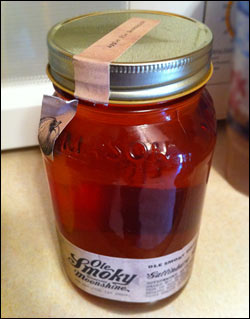 Ole Smoky is a local family business is the first federally licensed distillery in the history of East Tennessee. They took advantage of a recently changed Tennessee state law that allows the distillation of spirits, opening the door for them to create some old-timey style moonshine.

I had a chance to sample some of this sippin' booze with the Ole Smoky Apple Pie Moonshine. I'm normally leery of flavored alcohol - especially those that dance on the fruity side of things - as a little too much in any one direction can completely ruin the taste. Yet when specialty-flavored spirits are able to dial in tightly to a balanced blend of notes, it can pay off in big dividends to my mouth. Let's see if Ole Smoky is successful in this regard...


Permalink 3 Comments
Kung Fu Monkey Brand Red Dragon Pepper Sauce is one of the best spicy food surprises I've come across in quite a while. Even though it was a past Scovie Award winner for the World Beat category, I tried to remain objective while reviewing it. My attempts were futile; one try and I was hooked. This stuff is simply awesome!








Permalink 5 Comments
Sure, at its core the Thanksgiving holiday is family, football and food. I celebrate those things along with most of the American readers of this site.

But, let's honestly never forget all the blessings we have in our lives. Some of you may have most of the luxuries of life, with a comfortable career, and a gaggle of supportive and loving family and friends. Some may be struggling with a job lay-off, personal struggles, or even health problems for yourself or a loved one. Whatever your station in life is, remember that there's ALWAYS something to be thankful for! Whatever good you have in your life, embrace it and treasure it!

Here's wishing all the readers of this blog a GREAT and Happy Thanksgiving!
Permalink 3 Comments
For those who have never tried it, wasabi is a type of strong, spicy vegetable mostly grown in Japan that is closely related both in taste and in lineage to regular horseradish. In addition to horseradish, it also resembles the pungent qualities of hot mustard, chile peppers, and even onions. It's definitely an acquired taste, but a lot of chileheads love it for its apparent "heat" it brings to dishes, such as a nice dipping sauce for a sushi roll. Personally, I'm not the world's biggest fan of wasabi, but I do think it works well in certain snack foods, such as the line of nuts and snacks produced by Fastachi...

I've reviewed three Fastachi snack mixes; two that contain wasabi - Hot & Sour Wasabi Mix and Tokyo Mix, and one that doesn't - Cranberry Nut Mix...
Permalink 1 Comments
If you're tired of the same old, hum-drum, formulaic condiments, you may want to give Ellie's Lip Smackin' Sauce a shot. It may remind you of a half-dozen types of sauces but it's got a distinct and elaborate flavor all it's own. It's a mildly-hot, sweet, complex, explosively tangy, all-purpose condiment...









Permalink 3 Comments