Blog Archives
Thousands of "fire eaters" set to enjoy world's largest spicy foods show

For Immediate Release – February 14, 2012

Contact: Tom Garrity, The Garrity Group (505) 898-8689
Julianne Horn, The Garrity Group (505) 898-8689

Albuquerque, NM – The 24rd annual National Fiery Foods & Barbecue Show is prepping for a sizzling weekend of gourmet foods, sauces, spices, sweet-heat treats and rubs at Sandia Resort and Casino March 2-4, 2012 in Albuquerque, New Mexico. Show highlights will include cooking demonstrations, exciting new exhibitors, the release of "Dave DeWitt's Chile Trivia" book and a special exhibit devoted to New Mexican grown super-hot chile peppers...

Permalink 1 Comments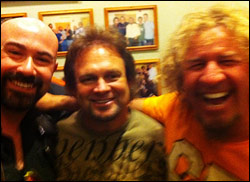 To millions of Van Halen fans, bass player Michael Anthony was not only the cucumber-cool glue that held the band together and provided their distinctive high harmonies, but was also the member of the band they could identify with the most; more specifically, a down-to-earth, real guy that you'd want to sit down and have a beer with.

Unfortunately, in 2004, Michael was unceramoniously ousted from Van Halen to make room for Eddie Van Halen's son Wolfgang in the bassist role. Not to throw a pity party, Michael instead formed a new group with close pal and former Van Halen lead singer Sammy Hagar, legendary guitar virtuoso Joe Satriani and Red Hot Chili Peppers stickman Chad Smith. They dubbed themselves Chickenfoot, and have since released two albums; the second of which is humorously titled Chickenfoot III. The four-piece unit is currently gearing up for the second leg of their U.S. tour in support of it.

Many hard rock fans also know of Michael's extracirricuar pursuits - hot rods, collecting Mickey Mouse watches, acquiring old unrelased and bootleg Van Halen tapes, and fiery foods. It's that last passion that chileheads have taken an keen interest in.

Mike - or "Mad Anthony" as he's sometimes nicknamed - is a well-known heat freak in the rock 'n' roll world who hooked up with Ring of Fire Hot Sauce creator Mike Greening of Mike and Diane's Gourmet Kitchen. Between the collaboration of the two Mikes, they unleashed Mad Anthony's Hot Sauces, which include a lineup featuring the his original Hot Sauce, the XXXTra Hot Private Reserve (read my review of this here), Fiery Mustard Sauce, Original Style BBQ Sauce and Extra Hot BBQ Sauce, plus an upcoming (and as of this writing untitled) bhut jolokia-based seasoning.

Oddly enough, although I at one time I was a diehard Van Halen fan who once maintained three different VH websites (VHTrading.com, VHFAQ.com and VHGuitar.com), it wasn't until I become a fiery foods writer that I was granted the opportunity to interview Michael Greening, and now Michael Anthony. Now withour further ado, here's Mike chatting with me a little about Chickenfoot and a great deal about the wonderous foods that make our mouths feel like it's on fire...
Permalink 10 Comments
Now that news has broken that the Moruga Scorpion has become World's Hottest Chile Pepper on some of the big news outlets - ABC News, Yahoo! and the L.A. Times, just to name a few - ANYONE with Moruga Scorpion info of any kind has gotten flooded with e-mails, Twitter direct messages and phone calls about the new record holder as well as inquiries about where to buy Moruga Scorpion plants, seeds and pods. I am no exception to this. It's far more frenetic than when the Trinidad Scorpion Butch T become the planet's hottest chile year year.

It's gotten so crazy that I have to post something about it to help field some of the requests on where to purchase these super-hot goods. Well, below is a list of growers and suppliers who should be able to help most people buy not only the new heat king, the Trinidad Moruga Scorpion, but other coveted super-hot chile peppers as well, including the aforementioned Trinidad Scorpion Butch T, the Bhut Jolokia (aka Ghost Pepper or Ghost Chile), the Trinidad 7 Pot Douglahs and Jonahs, and more...

Permalink 18 Comments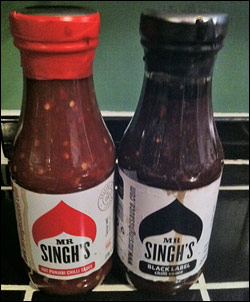 UK audiences are generally more accustomed to Indian and Eastern cuisine than the American public, so to see a chilli sauce brand like Mr. Singh's on that side of the Atlantic would be more commonplace in people's minds.

These two offerings, Mr. Singh's Hot Punjabi Chilli Sauce and Mr. Singh's Black Label Chilli Sauce, are from jolly old England direct from the maker. Mr. Singh's had their origins in London in 1985 when Popa Singh wanted to develop a sauce, marinade and dip that reminded him of his "spiritual home" of the Punjab (a geographical region straddling the border between India and Pakistan) that fit in with some big city British buzz...




Permalink 0 Comments
One of the popular memes circulating right now on the intertubes is the humorous "what they think/what I do" posters, where a profession or activity is given several perspectives depending on who looks at them. Well, I could not resist making one for Hot Sauce/Fiery Foods Bloggers and Writers. Click on the image to the right to view it larger. Enjoy!



Permalink 3 Comments
Fiery confections are certainly not new; I've seen everything from chile-infused chocolate to spicy peanut brittle to ghost pepper-powdered cotton candy.

ThinkGeek.com has always been friendly to both caffeine addicts and chileheads alike by offering t-shirts and products geared twaords our tastes, and here's a little item that might appeal to the heat freaks out there: Ghost Pepper Super Hot Candy Balls. Named "Timmy's Great Balls of Fire", these burning little orbs of joy come in a 4 oz. box and contain approximately 30 hardcore hot candies. They are not only made with bhut jolokia powder inside, but are dusted with ghost chile powder on the outside as well. Sounds interesting!
Although the website states that these Ghost Pepper Super Hot Candy Balls clock in at over 1 million SHU (they cannot, as the other candy ingredients such as sugar, corn syrup and food starch greatly dilute the heat, these may be right down some chileheads' alleys for a...


Permalink 2 Comments
If you know me well, then you know that I love the celestial combo of sweet and heat! In his video, I get to try out an offering in that category as I review four tantalizing chile pepper jellies from Suzanne's Kitchen - Heaven (Mild), Purgatory (Medium), Hell (Hot) and Ghost Jelly (Extra Hot). Are these worth a look? Watch to find out.

For more info or to purchase Suzanne's Kitchen products, go to at http://pepperjellyheaven.com.


Permalink 2 Comments
Here's Yahoo!'s Blue Ribbon Hunter's version of the Intensity Academy Gourmet & Hot Sauce Company Lollipop Lick-a-Thon a few weeks ago at ZestFest 2012. If you're unfamiliar with the web show, as I was before they appeared down at ZestFest, it features Chef Allison Fishman as she travels to food festivals all across America.
In this video you'll see several well-known chileheads and sauce makers. You can also spot me on stage towards the end in the red t-shirt standing next to the winner of the contest.
Unfortunately, a lot of the fun smack-talk from myself and Jacs Tailgaters towards previous Lick-a-Thon winner Vic Clinco wasn't showcased at all, but this is worth a look, nonetheless:
Permalink 2 Comments
In the brown sand dunes of India's Thar Desert, local farmers lay out mounds upon mounds of red chilies on thin plastic sheets to dry out under the harsh desert sun. Red, lustrous, and inviting, they are a sight to behold. Once dried, these red chilies will be ground up, packaged and shipped to every corner of the country, or even used directly in one of the many Indian curries.

Red and yellow are the two predominant colors in Indian cuisine. Red, from the generous use of chilies; yellow from turmeric. To say that Indians like their food to be spicy would be an understatement. In some parts of the country, it is an acceptable practice to keep shakers filled with ground up red chili powder next to the...


Permalink 3 Comments
It's official that there's a new hottest kid on the block - the Moruga Scorpion chile pepper. What's more important than that is that the largest and most comprehensive study on super-hot chile peppers has been made by New Mexico State University's Chile Pepper Institute and that tons of data will soon be available. After nearly 11 months of work that was headed up by graduate student Gregory Reeves, CPI senior research specialist Danise Coon and CPI director and regents professor Dr. Paul Bosland, the results were publicly announced at last weekend's Chile Pepper Conference in Las Cruces, New Mexico.

Essential to a lot of this was my good friend and chile pepper grower Jim Duffy of Refining Fire Chiles. He, along with Dr. Herman Adam of CARDI, (Caribbean Agriculture Research & Development Institute) provided the vital seeds used to grow the plants in this testing.
Permalink 17 Comments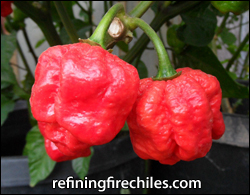 It was only a matter of time before something hotter than the Trinidad Scorpion Butch T was dethroned as the world's hottest chile pepper. Now that the Moruga Scorpion chile pepper has become the Scoville king of the capsicum family with some reaching higher than 2 million SHU, will it be knocked off at some point in the future by an even hotter chile? That's the question I'm posing for all of you, blog readers...
Photo courtesy of Jim Duffy of RefiningFireChiles.com
Permalink 7 Comments
Well, the chile pepper heat race has apparently been pushed to screaming hot new heights.

If a photo released by chile pepper grower Jim Duffy is any indication, then the Moruga Scorpion - a very close relative to the current world record holder Trinidad Scorpion Butch T - is the world's hottest chile pepper at more than 2 Million Scoville Heat Units in some cases. Yikes.

The photo shows Duffy standing in front of a large poster making the proclamation regarding the Moruga Scorpion, and looks to show research headed by graduate student Gregory Reeves, senior research specialist Danise Coon and regents professor Dr. Paul Bosland of New Mexico State University's Chile Pepper Institute. This may have been taken at the 2012 New Mexico Chile Conference, which is taking place as I type this.

While no official press release or word has been released regarding this, I imagine this will THE talk of the chile pepper world for the next few days. More details to come.

Photo credit goes to Jim Duffy of Refining Fire Chiles


Permalink 6 Comments
This time out, I review a BBQ sauce with a little sweetness and a lotta kick - TATS Sauces & Marinades' Original Ghost Barbecue Sauce:


Permalink 1 Comments


If you hadn't seen this link on one of the social media sites I plugged it on, here it is for all of you to enjoy - photos from Day Two of the most recent ZestFest!

Permalink 2 Comments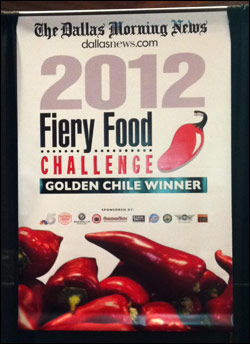 Read it here first: here's the complete list of Fiery Food Challenge winners from ZestFest 2012! Big thanks go to FFC coordinator Judy Fuhrhop for providing the information.

Here are the winners...

Hot Sauce: Chipotle - Consumer Ready
1st CaJohn's Fiery Foods Company - Happy Beaver
2nd The Karma Sauce Company - Smokey Karma Sauce
3rd Duke & Baron's All American - Smoke Blueberry Chipotle

Hot Sauce: Fruit Based - Consumer Ready
1st Jungle Heat - Mango Heat
2nd Captain Thoms' Chile Pepper Company - Captain Thom's White Zombie
3rd Red Hawk Premium Peppers - B3 Hot Sauce

Hot Sauce: Habanero - Consumer Ready
1st Sizzlin Sauces, LLC - Spittin' Fire Hot Sauce
2nd....

Permalink 17 Comments