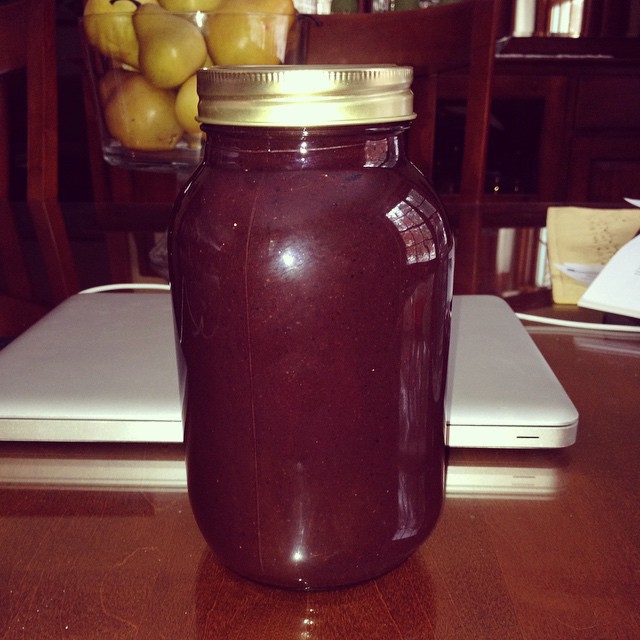 This awesome, mega-delicious homemade blueberry BBQ sauce recipe is one you have to try is you love your barbecue sauce to be on the slightly fruity and sweet side. I would include myself in that group, but it had better be an extremely balanced and tasty sweet BBQ sauce and not overpowering in the fruitiness department.
Thankfully, this blueberry BBQ sauce is wonderful, and has a little something for everyone – sweetness from the blueberries and brown sugar, tartness from the red wine vinegar and balsamic vinegar, smokiness from the chipotle chiles, spiciness from the habanero, and full body and rich savoriness from the rest of the ingredients.
Mmmm-mmmm! Time to make some good stuff!
Ingredients…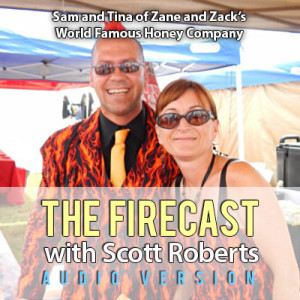 Listen Instantly!


Click Above to Listen to This Episode Now!
Episode #76 – Sam & Tina McCanless of Zane & Zack's World Famous Honey Co.
The Washington state-based owners of Zane and Zack's, Sam and Tina McCanless, join Scott and talk about what it's like to combine honey and hot sauces, and also discuss a timely Ted Nugent-autographed guitar raffle that will benefit a wounded U.S. soldier, Sergeant Frank Hegr. Ken reviews two products, and Scott tries out The Pepper Pantry's Hot Peppers In Oil.
Links mentioned in the episode:
The Firecast is Sponsored in Part By:
Sucklebusters – Texas BBQ Rubs, BBQ Sauces & Texas GunPowder! SuckleBusters is preferred by competition BBQ Cooks, and has won numerous awards including back-to-back 1st Place sauce wins at the American Royal – the World series of BBQ competitions.
Other Links mentioned in the episode:
Listen Instantly!


Click Above to Listen to This Episode Now!
Download this episode |
Subscribe via iTunes |
Subscribe via RSS Feed