Blog Archives
LAS CRUCES, N.M. (AP) - A graduate student researcher at New Mexico State University will head to Asia to help unravel the genetic mysteries of a disease-resistant chile pepper.

Horticulture student Greg Reeves has been awarded a National Science Foundation grant to spend the summer helping study a chile known as CM334, which grows wild in Mexico.

Hot peppers are one of New Mexico's signature products. Reeves said the goal of the study is to build research partnerships with Asian countries where chiles also are a huge crop...

Permalink 1 Comments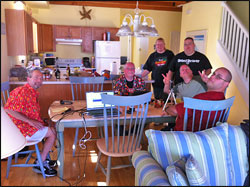 I love the Bloggers' Roundtable discussions that those of us with chile websites do every so often. It's not always the exact same lineup of bloggers in attendance for the conversations, but it's never a dull moment when you get us together!

These little meetings of the minds start a few years back at Jungle Jim's Weekend of Fire in Fairfield, Ohio. Since that event had historically the best turnout of bloggers, it was mutually agreed to record ourselves talking about about a vast assortment of fiery food-related topics, including the art of reviewing products to trends in the industry.

At this most recent Peppers at the Beach, the bloggers met at Chip Hearn's beach house after Saturday's show to do the roundtable. This time the lineup consisted of Ken Alexander of FieryWorld.com, "Firehead" Thomas Gately and Al "Buddah" Goldenberg of ILoveItSpicy.com, Brian and Marilyn Meagher of HotSauceDaily.com, and of course, myself. Also present was Steve "The Machine" Smallwood, who just an hour or so prior to this recording set new world records for eating the Most Ghost Peppers in One Minute and the Most Trinidad Scorpion Peppers in One Minute.

I cannot take credit for any of this other than throwing in my two cents every now and then. Like with previous Bloggers Roundtables, Brian and Marilyn Meagher captured the audio, and Al "Buddah" Goldenberg caught the discussion on video. I've embedded Buddah's two videos below, which are pretty much raw, unedited footage on which you can see a bit of "behind the scenes" stuff...

Permalink 0 Comments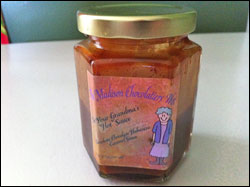 Yes, "Madison Chocolatiers West Not Your Grandma's Hot Sauce" is a fairly long name for a product, and it's even wordier if you tack on the type of sauce it is to the end of that moniker, to make it "Madison Chocolatiers West Not Your Grandma's Hot Sauce Chocolate, Chocolate Habanero Caramel Sauce". Whew! But that goofy little distinction should not deter you from grabbing your own jar of this dessert dipper to pour and serve with your food.

Partners Renee Rohrbach and Chef Ricky Sanders have ingeniously developed some incredible confectionery wonders through their gourmet company, Madison Chocolatiers West. They've gained some notoriety in the chilehead world because of their use of chile peppers in some of their chocolates and sweets, both expertly employing the flavor and burn of the chiles. Combining chile and chocolate has been done many, many times, but Renee and Ricky have done a splendid job at what they do, as they are among the best and most unique.

If you go by the longer name, you can probably figure out that it uses chocolate (I was excited to learn that this contains dark chocolate! Yes! My favorite over milk chocolate), chocolate habaneros (only called that because of their creamy brown color) and last but not least, caramel. In fact, I would have to say that if there was a "glue" flavor that held this sauce together to give it definition and personality, it would be that of the caramel.


Permalink 3 Comments
Permalink 1 Comments
This year at the Peppers at the Beach Tailgate Party, the man with the seemingly heat-retardant digestive system known as Steve "The Machine" Smallwood took down one World Record and set another one: respectively, the record for The Most Ghost Chile Peppers (also known as Bhut Jolokias) Eaten in One Minute, and The Most Trinidad Scorpion Chile Peppers eaten in One Minute. Although as of this writing it's still unofficial by Guinness, with the meticulous camera work, the timing and weighing of the chile peppers by Eat More Heat and I Love It Spicy, his daredevil gastronomical feats should be a shoe-in as officially Official very soon.

On Saturday, May 19, 2012, Smallwood demolished the previous Ghost Pepper record of 3 peppers by consuming a mind-boggling (not to mention lip-numbing) 8 chile peppers in a minute. What's even more extraordinary is that approximately one hour later he downed 8 Trinidad Scorpion chiles within a 60-second period and created a new World Record (there had been no previous record yet set).

This successful World Record Weekend was sponsored by High River Sauces, Chile Pepper Magazine, Endorphin Farms, ScottRoberts Web.com, and lastly Peppers.com, where the event was of course hosted.

When I hung out with The Machine this weekend, his demeanor and composure couldn't have been more calm; in fact, he was almost stone-cold...or, yes, machine-like. This guy was ready to make mincemeat out of super-hot chiles! But simultaneously, Steve is one of the nicest and most humble individuals I've ever come across in our Chilehead Nation. After he accomplished his feats, I asked him how it all went down...


Permalink 2 Comments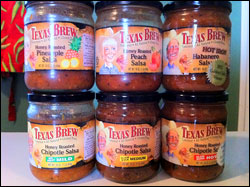 Any attendee of ZestFest or the Fiery Foods Show can tell you there is no shortage of salsas among the products sold by vendors. A few superb, some good, some mediocre...even if you're a diehard salsa devotee, you might suffer from salsa fatigue once you reach the back of the showroom floor. Therefore, if you're an exhibitor at one of those shows, you had better make sure your product is up to snuff or else you'll be quickly and easily forgotten.

One of the better salsa slingers I encountered at ZestFest 2012 was Texas Brew Salsa an outfit that uses honey roasted ingredients in the vast majority of their wares. If visions of the Zane & Zack's World Famous Honey Co. dance in your heads when you hear the word "honey", then you may be in for a surprise. The presence of honey merely gives the tomatoes, tomatillos, and other components found in their products a slight sweet edge, and certainly not the distinctive sugary honey flavor most people can detect right off the bat. It's because of this that they keep themselves from falling headfirst into the "dessert salsa" category (not that that distinction is a bad thing).

But who is Texas Brew? Here's what's list on their company profile page:

"Texas Brew Products is a San Antonio, Texas based company founded by Brenda Craig.
"THE innovative, versatile company opening doors and building bridges into culinary wonderlands. Why? Because only Texas Brew Products uniquely combines authentic, historic preparation techniques with the freshest and finest ingredients, creating a flavor explosion like never before experienced.
"We are focused on producing 'Simply Salsalicious' all natural, gluten free; gourmet salsas (condiments) made with fresh fire-roasted vegetables and smoked spices the old fashioned authentic Mexican way."
For this review I tried four of Texas Brew's products - Honey Roasted Peach Salsa, Hot Iron Habanero Salsa, Honey Roasted Pineapple Salsa, Honey Roasted Chipotle Salsa - No Heat Mild, Honey Roasted Chipotle Salsa - Slow Kick Medium, and Honey Roasted Chipotle Salsa - Slow Burn Hot. ..

Permalink 1 Comments
MIT PhD candidate Dave Smith and a team of mechanical engineers and nano-technologists at the Varanasi Research Group have been held up in an MIT lab for the last two months addressing a common dining problem...condiments sticking to the inside of a bottle. The result is a genius, non-toxic super-slippery substance called LiquiGlide.

To demonstrate how revolutionary this is, first take a look at regular ketchup and mayo bottle WITHOUT the LiquiGlide coating.
Ketchup:

Mayonnaise

And now, here are bottles WITH LiquiGlide coating...
Permalink 6 Comments
There's a new spicy foods event being kicked off this year. Where is it taking place? Those lucky folks who live in Central Ohio, aka the Columbus metro area, are able to be host to yet another festival exhaulting fiery cuisine (the other being Columbus' North Market Fiery Foods Festival). This one is being held in a town east of Ohio's state capital called Pataskala and is dubbed the Heat of Summer Fiery Foods Festival.

The Details

On July 21, 2012 the Pataskala Lions Club will hold their first ever Heat of Summer Fiery Foods Festival. They would like to invite different companies from all over the state of Ohio and beyond to attend. The initial focus of the event will be on all things hot and spicy. This will include salsas, hot sauces, rubs or dust, and other products. They also want vendors that offer any other kind of products to also attend. Their thrust is to put on an event that the whole family can enjoy, so that while someone is trying their hand at the Jalapeno Eating Contest, their friends and family can shop at the vendor stations.

Not only will there be vendors selling pungent and tasty products, but there are some additional activities planned for the day, such as a chili cook off for anyone - both professional and amateur alike - to enter. For those brave enough, and with an iron stomach, there will be a Jalapeno Eating Competition. Cool prizes given out to the winners in these competitions. The public will also judge different vendors and this will determine a...

Permalink 4 Comments
Another Peppers at the Beach is in the record books. And speaking of record books, Steve "The Machine" Smallwood will soon have the official records for having eaten the Most Ghost Chiles in One Minute and Most Trinidad Scorpion Chiles in One Minute!

As always, it was great seeing ALL of my fellow chileheads, all the vendors, to Chip & Luther Hearn and staff of Peppers, and everyone else involved. There are WAY too many names to mention, so if you were there - you rock!

I do want to specifically thank Brian and Marilyn Meagher of Hot Sauce Daily for all the help and friendship you have provided, for giving me rides to and fro, and for being like an older brother and sister to me. Without you guys I couldn't have witnessed a single minute of fun this weekend.

You can view the photos I took (with the help of a few others such as Sue Hard of CaJohn's) in slideshow format here:

Photo Slideshow


Permalink 1 Comments
In just a few short days the Peppers TAILGATE PARTY At The Beach will be here! If you're a chilehead and live ANYWHERE in the Mid-Atlantic, don't miss this event!

Peppers at the Beach will be held at:
Peppers, Midway Galleria, 18701 Coastal Highway Rehoboth Beach, DE 19971

Join us Friday, May 18, 2012 through Sunday, May 20, 2012

Here is a full list of vendors on hand to give out samples and sell of their products:

Extreme Foods
Texas Rib Rangers
Defcon Sauces
Heartbreaking Dawns
Captain Thom's Chile Pepper Co.
Bonafatto's Wing Sauces & Marinades
Rizzoti Foods - Rippin' Red
Suzanne's Kitchen Pepper Jelly
Fat Kid Sauces
High River Sauces
T-Rev's Stiff Willi Chili Co.
Cajun Island Sauces
Cape Seasoning
Ashburn Sauce Co.
Red Lion Spicy Foods Co.
Eagle Wingz
Progressive Sauces (JT Pappy's)
The Murph's Bloody Mary
Crazy Steve's Pickles & Salsa
Tom's Roid Rippin' Hot Sauce
DragonFire Sauces
Red Hawk Premium Peppers
Mr. Bar B Que
CaJohn's Fiery Foods
Crazy Uncle Jester's Inferno World
Griffin Wing Sauces
ASAP Designs
Ole Ray Sauces
Wicked Cactus Sauces
Deano's Jalapeno Chips
Backyard Jams & Jellies
Madison Chocolatetiers West
Matteo's Restaurant
Born To Hula Hot Sauce
Black Woods Wings
Patter Fam Sauces
Evil Seed Sauce Co.
Wy's Wings
Rivas Salsa....

Permalink 0 Comments
I know what you first thought; maybe Scott did a typo and accidentally called this jarred salsa a "hot sauce" instead. I assure you, this was no typo. Yep, this is one of those rare instances of a product billed as a hot sauce is sold in a jar. Kind of fitting, and perhaps a little confusing, as Royito's Hot Sauce could possibly be considered either a salsa or a hot sauce because of it's ingredients, texture and taste. That's certainly not a fault, because I often like it when cooks and chefs do fusion dances in their kitchens when creating new food enhancers.

The person responsible for this product is Roy Spence, one of the founders of the large Austin, Texas ad agency called GSD & M. Roy took his 60-year-old family recipe of all-natural ingredients, and applied his childhood nickname of Royito that his father gave him as the company moniker to his spicy condiment. John Blackington, Royito's employee and Self-described "friend of Roy", submitted a jar of which I will review right now...

Permalink 1 Comments
In the historic and scenic river town of Madison, Indiana, lies a gem of chile pepper culture - the Indiana Hotluck & Fiery Foods Expo. It will be celebrating it's 17th year of existence next year, and this post concerns a description and re-cap of this year's, the 16th.

For those of you that have never heard the term before, a "hotluck" is like a potluck but featuring spicy dishes. Hotlucks have a long history on the email group [CH] Chileheads, and have been held all over the country. Most are simple affairs, hosted by chileheads in their own home. The "cost" of admission is to simply bring a chile related dish, a recipe (if you can't cook), or to just bring a plain love of spicy things and the willingness to chat about all things chile with anyone & everyone.

The Indiana Hotluck was built on that tradition with a few differences...

Permalink 1 Comments
During the Peppers At The Beach Weekend this coming May 18 - 20 in Rehoboth Beach, Delaware, the well-known chilehead known as Steve "The Machine" Smallwood will attempt to set or break a couple of Guinness World Records when it comes to speed eating super-hot chile peppers.

But who exactly is the man known as "The Machine"? Well, he was given the nickname by "Firehead" Thomas Gately of I Love It Spicy! because of two things. One, Smallwood's superhuman tolerance for capsaicin-included heat in challenges that would leave a vast number of experienced chileheads go running for a carton of milk to soothe the burn. For example, just look at how The Machine handles 11 million Scoville Heat Unit extract - the guy is so calm, cool and collected he makes The Fonz look like a panicking little wuss. Two, Smallwood possesses incredible speed and stamina in spicy eating contests. Go against him in a burn battle and chances are that this no-nonsense Kentucky boy will trounce you.

To help ramp up for the Peppers At The Beach Weekend, I recently talked to The Machine to get to know the man behind the myth and the legend. Many of us in the online chilehead circles already know him as a humble guy, a friend, and as a reviewer for the aforementioned I Love It Spicy!. But what exactly fuels this chile-chomping Machine and how does he keep it running so efficiently? Read on to find out...

Permalink 5 Comments
My fellow St. Louisan Peter McNees of Pyro Pete Sauces & Rubs has once again made an appearance on the Local Fox affiliate KTVI Channel 2. Last December he made his TV debut on the morning show. This time out he went on to do a little summertime grillin' with the morning show crew:
If you haven't tried his Ultimate Salsa, you're missing out on an all-around great dip and condiment. I gave it a 4 1/2 star review for its shear yumminess a while back. I would also like to point out to the metro St. Louis folks that Pyro Pete has picked up a new local retail store from which you can purchase his goods and save on shipping costs:
Nutrition Stop Inc
4101 Mexico Rd # K
St. Peters, MO
(636) 928-7550
nutritionstop.com
Or if you live elsewhere in the country, you can jump over to his website at pyropetesauces.com
Permalink 0 Comments
I recently reviewed sauces made by 13-year-old Nolan Bebber. Now, there is an 8-year-old trying his hand at creating spicy condiments. His name is Jordan Brenner, and he calls his products Jordan Brenner's Hot-Cha WAA-Cha Sauces.
Of course, young Jordan has had his father, Kendell Brenner, aide him tremendously in starting up his fledgling business. And like many folks looking for aletnative ways to fund and promote their goods and services, they're looking towards Kickstarter.
Jordan Brenner's Hot-cha WAA-cha sauces are looking to raise a minimum of $3,500 dollars to offset the huge expenses that are involved in starting a line of hot sauces. The money raised will help them expedite the processing of their business venture. Some of the expenses this will cover are FDA schedule process, labels, upfront fees of bottles and first run production for one, if not all of the designed recipes insurance, advertizing and promotions.
Kendell and Jordan have already put in a lot of time and money with artwork design, tasting groups and research and development of sauces - not to mention milk and bread to ease the pain of getting hot sauce in your eyes!
The three flavors they have developed are Mango Maple Habanero, Strawberry Habanero and and their Original Garlic-Lime Habanero.
Their Kickstarter link: http://www.kickstarter.com/projects/1052293711/jordan-brenners-hot-cha-waa-cha-sauce
Permalink 0 Comments